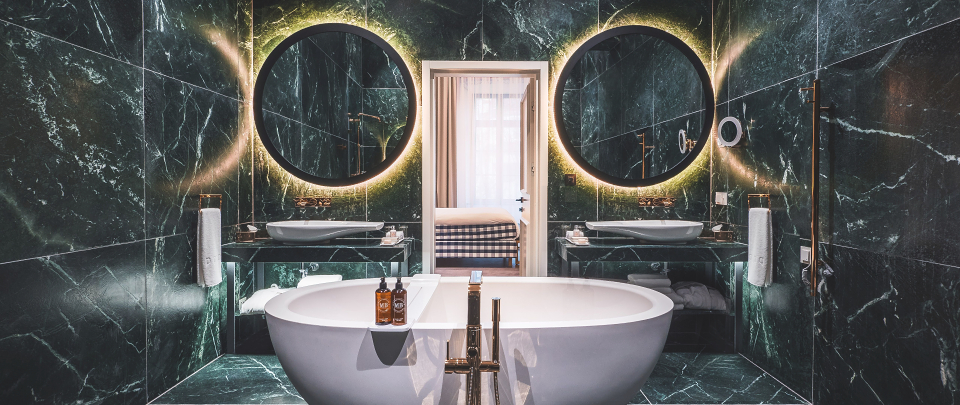 Summer in the City: Discover the top three GROHE travel hotspots for the summer season 2020
Company Information
Düsseldorf, March 12th 2020 – Summer season is travel season: Discover exceptional hideaways with GROHE and experience an exciting summer in the city. No matter if you prefer luxurious design hotels, locations steeped in history or a modern, urban lifestyle – GROHE, as a leading global brand for complete bathroom solutions and kitchen fittings, equips numerous outstanding locations around the globe.

GROHE's top three summer hotspots invite you to explore three totally different cities: located in the middle of the Old Town of Vilnius, Lithuania, Hotel Pacai has been updated to meet all the needs of modern travelers but has preserved the rich atmosphere of an ancient palace. Fans of a Scandinavian style who enjoy being in touch with nature will love the Marski by Scandic in Helsinki where urban lifestyle meets nature. Hôtel Monte Cristo in Paris takes you back in time and makes you experience a mystical Paris of literary salons and glamor.

#1: Hotel Pacai in Vilnius, Lithuania
The Old Town of Vilnius is a historic snapshot of 17th century Baroque splendor, and in Hotel Pacai this atmosphere is preserved and updated for today's travelers. The hotel is housed in the Pacai palace, which once played host to the Russian Tzar and Emperor Napoleon. Many of the building's architectural details remain, from mysterious stone staircases to arches and columns. Original frescoes have been uncovered, often set against bare plaster or stone finishes. Luxurious contemporary textures are layered on top, with velvets, glossy metallic details and rich marbles adding to the dramatic palette.

GROHE products:
The bathrooms offer perfectly attuned modern decadence, with freestanding baths paired with elegant GROHE Allure freestanding bath spouts in a glamorous Warm Sunset finish. With their classic design and timeless elegance, GROHE's Allure line is a perfect match for the splendid palace.

#2: Marski by Scandic in Helsinki, Finland
The design and spirit of the newly refurbished Marski by Scandic hotel in Helsinki is intended to capture a feeling of 'Finnfulness', an open-minded philosophy that celebrates both an urban lifestyle and a love of nature that characterizes modern Finland. The hotel interiors reference the great outdoors through a city-chic filter, with light wooden floors set against grey stone that echoes the cliffs of the Finnish archipelago, and a palette of dark green, for the country's lakes and forest, and rich Finnish berry red.

Guests can opt for the revitalizing indulgence of a room with its own sauna, or a room with no windows, ensuring the city sounds don't disturb their sleep. Marski by Scandic has been awarded the official Nordic Swan Ecolabel certification, thanks to its low consumption of energy, water and chemicals, with recycled materials used whenever possible.

GROHE products: With their appealingly tactile lines, GROHE Essence faucets and Euphoria shower systems, both in a contemporary Cool Sunrise finish, perfectly complement the dramatic bathroom spaces that create an intimate, urban atmosphere with the use of dark colors and metallic accents.

#3: Hôtel Monte Cristo in Paris, France
Step back in time to a mystical Paris of literary salons, luxury and the glamor of overseas adventures. Hôtel Monte Cristo's interiors are a riot of rich color and print, inspired by the great writer Alexandre Dumas and the hero of his novel The Count of Monte Cristo. Both the travels of the story's hero, and the Caribbean ancestry of Dumas himself inform every aspect of the hotel, which boasts Paris' first dedicated rum bar, a nod to the Dumas' family history as rum producers.

The interior design by Pauline d'Hoop and Delphine Sauvaget embraces the trend for bohemian maximalism, with layers of detail built up with vivid hues and antique treasures. The bedrooms ooze old-world glamor with bamboo and rattan furniture, lush velvet upholstery and out-sized paper lanterns.

GROHE products: GROHE Euphoria 110 showers and Essence bath mixers in a period-appropriate Brushed Cool Sunrise finish complement the bathrooms' elegant vanity basins and baths.

Further information about GROHE's product portfolio can be found here: www.grohe.com

A press kit with imagery and product shots is available for download here.