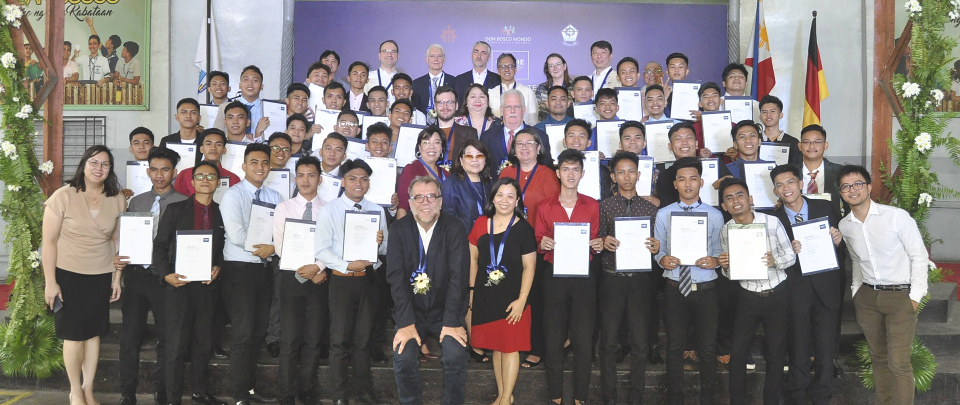 Offering a career perspective: Formal presentation of certificates for GROHE Dual Tech graduates in the Philippines
Company Information
For the first time, 43 trainees receive international plumbing certificate
Since 2009, GROHE has been training socially disadvantaged young people in cooperation with Don Bosco Mondo e.V. in Mumbai and Delhi, India and Tondo (Manila) in the Philippines to become specialists in sanitary technology
1,200 graduates have already been given the opportunity to make a living as self-employed plumbers
Düsseldorf, 19th December 2019. GROHE, a leading brand for full bathroom solutions and kitchen fittings, has for the first time awarded 43 graduates of the GROHE Dual Tech training course with the internationally recognized plumbing certificate in front of over 200 invited guests in Tondo (Manila) in the Philippines. For the last 10 years the global brand, together with the NGO Don Bosco Mondo e.V., has been training socially disadvantaged people between the ages of 17 and 25 to become sanitary specialists, not only in the Philippines but also in Mumbai and Delhi, India, thereby offering secure future job prospects.
Using products from the LIXIL product portfolio, the trainees built a state-of-the-art public toilet for visitors to St. John's Church on the site as a final project. Around 1,000 people attend church services here every Sunday. The toilet building was inaugurated and transferred to the parish.
Helping people to help themselves
As part of the GROHE Dual Tech training program, 1,200 young people have been trained as specialists in sanitary technology as of today. The global brand thus not only offers graduates good prospects for the future, but also counters the shortage of skilled workers, thereby improving the living conditions of many local people: Especially fresh water pipes, sanitary facilities, hygiene measures and health care are lacking – also experts in sanitary technology are particularly in demand. This aid project therefore also contributes to the fulfillment of the UN Sustainable Development Goals (SDG), in particular Goal 6 "Clean Water and Sanitation".
At each location, it is ensured that the qualifications are recognized on the respective national level – moreover, trainees enjoy the coveted international know-how of GROHE and its business partners. Thanks to their qualification that comes with a recognized certificate, the young plumbers are not bound to cooperating companies after their training, but can also apply for a position at any other company they wish to. In addition to annual programs, GROHE Dual Tech offers short-term courses to train the candidates to become assistant plumbers and further training courses with market-oriented modules for young professionals from construction and plumbing companies. To ensure quality standards, the instructors receive advanced training with measures such as "Train-the-Trainer". The program is completed by regular visits by GROHE employees for a personal exchange and the use of GROHE materials and training aids.
Sustainability through social responsibility
GROHE pursues a 360-degree sustainability approach that encompasses employees, suppliers, customers, processes, products and the social contribution in equal measure. In this way, the global brand not only develops resource-saving product innovations that enable consumers to lead a more sustainable life, but is also involved in various projects alongside the GROHE Dual Tech training program that contribute to improving social conditions.
See the latest sustainability brochure for more information on GROHE's commitment to sustainability.
>> High resolution images regarding the GROHE Dual Tech training program can be downloaded here. <<