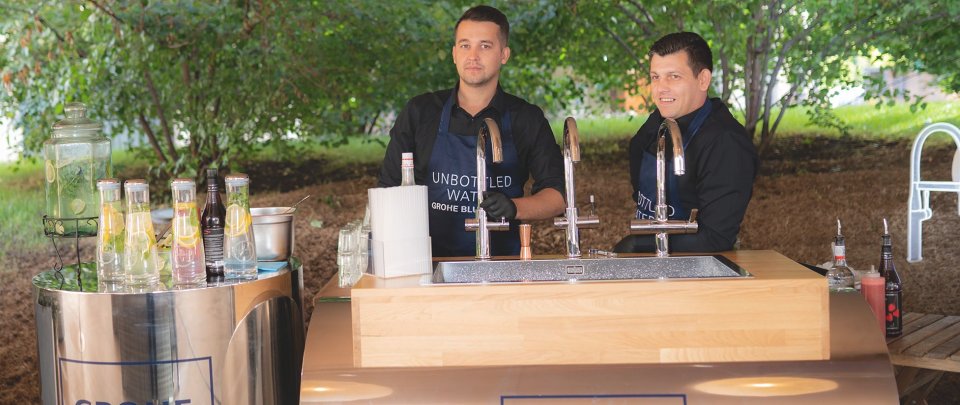 GROHE Showroom Opens its Doors in Moscow
Company Information
August, 22nd Moscow: First Russian GROHE Showroom opens its doors at Marina Business Park (Leningradskoe shosse, 39 bld.2). The reserved interior of the showroom hosts existing novelties and most popular collections of world's leading provider of sanitary fittings.
The opening of the showroom marks the 20th anniversary of GROHE Russia. The company invited over 200 guests to celebrate the occasion, including GROHE HQ representatives. Jonas Brennwald, Chief Sales Officer at GROHE and a special guest at the event, gave accolades to his Russian colleagues for their joint effort at implementing global GROHE values and policies in Russia, singling out the fact that Moscow showroom is the first GROHE showroom that can be fully refurbished in under 24 hours.
The interior and collections of the showroom were presented in an unusual and vivid manner: the guests joined an immersive theatrical experience revealing a romantic love story accompanied by the soft murmur of water. The spectators together with the actors had a chance to visit every corner of the showroom and see all the GROHE products in action. The guests were especially impressed with GROHE AquaSymphony, where they witnessed an opera singer performing Italian aria right underneath the gentle streams of water.
The guests of the evening spent their night enjoying live music, taking selfie in GROHE selfie-box, tasting elite tea varieties brewed with crystal clear GROHE Red water or refreshing drinks from the GROHE Blue aqua-bar. Special liquid nitrogen-frozen ice cream and flambéed fruit were a treat for all gourmands present. The guests also had an opportunity to leave their best anniversary wishes for the company at the art-wall or simply find out more about the company history with the help of interactive screens.
The event spanned long into the night. When it was finally time to leave, the guests got some memorable presents and send luminous GROHE balloons flying into the darkening Moscow sky, promising to come back for more soon.