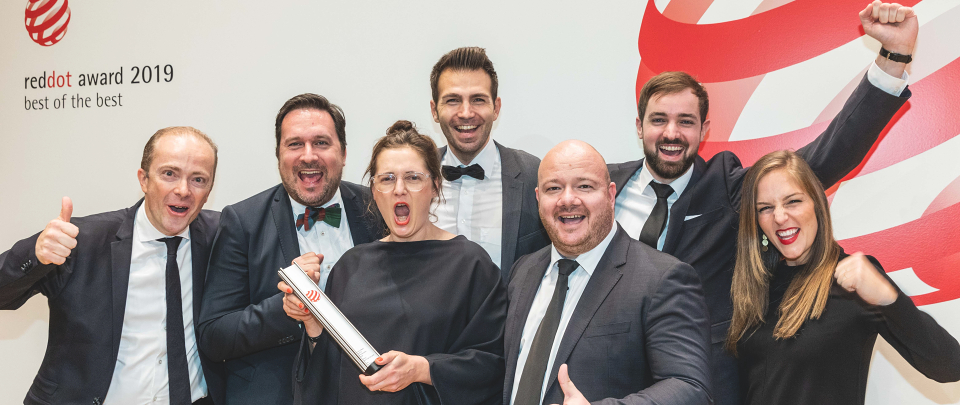 GROHE received the "Red Dot: Brand of the Year"
Company Information
GROHE convinces the jury with "a consistent brand profile, known globally as a name for first class industry-leading performance"
The Konzerthaus Berlin was the perfect setting for the awards ceremony of the prestigious Red Dot Gala evening
GROHE's booth from this year's ISH also won a renowned Red Dot award

Düsseldorf, 7th November 2019. In front of around 1,400 invited guests GROHE, a leading global brand for full bathroom solutions and kitchen fittings, was honoured as "Red Dot: Brand of the Year" on November, 1st at the Konzerthaus Berlin. This exceptional accolade is awarded to the best brand in an industry. With its outstanding design quality and extraordinarily consistent conveying of its own values across different channels, GROHE won over the experienced jurors who assessed a total of 8,697 entries. Besides GROHE, Deutsche Telekom and HappyGoal received the highest distinction in the "Brands" section.

We are delighted about the award. It is an appreciation of the GROHE brand and its employees across more than 150 countries, who represent a consistent brand experience day in day out. At the same time, it recognizes the new path we took to emotionally charge the GROHE brand and its products in a holistic context, which gives it relevance way beyond the sanitary industry", summarizes Thomas Fuhr, CEO Grohe AG, the award.

Prof. Dr. Peter Zec, founder and CEO of Red Dot adds "GROHE achieves constantly outstanding results in the Red Dot Award: Product Design including the honorary title Red Dot: Design Team of the Year in 2011. Now, GROHE also proved its strength as a brand in the Red Dot Award: Brands & Communication Design 2019. The company has successfully managed to transport the brand value 'Pure Freude an Wasser' with outstanding design quality across different channels. Red Dot rewards this achievement with the top distinction of the 'Brands' section 'Red Dot: Brand of the Year'. Congratulations!"

In addition, GROHE's ISH booth also received a Red Dot Award. By creating a multi-sensory brand experience, the booth offered guests the opportunity to entirely immerse themselves in the world of GROHE and to really experience its products. As part of the new booth concept, GROHE focused even more on the consumer benefits of the products: they were no longer divided into categories, but shown in inspiring lifestyle vignettes as full bathroom solutions.