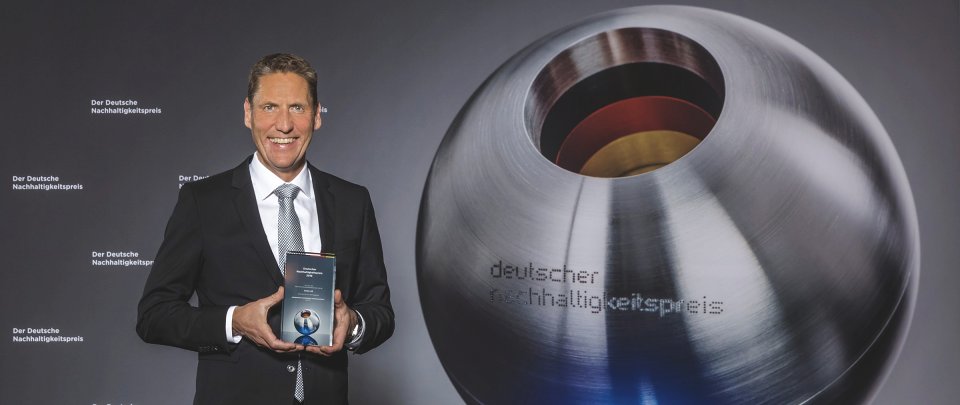 German Sustainability Award: GROHE Again Holds Top Position
Company Information
Download area
Global brand for innovative sanitary products was voted among the top 3 of the "most sustainable big companies in Germany".
The jury acknowledged GROHE's continuous commitment for (further) developing sustainable products.
GROHE managed to establish sustainable production processes in a resource-intensive industry.
Düsseldorf, 10 December 2018. For the third time, GROHE, a leading global brand for complete bathroom solutions and kitchen fittings, has successfully achieved a leading position at the German Sustainability Award in the category "Big Companies", making it one of the top 3 of the "Most Sustainable Big Companies in Germany". The award ceremony took place on Friday and was part of the conclusion to the German Sustainability Day which was celebrated with a festive gala in Düsseldorf, Germany. With the award, the German Sustainability Award foundation honours companies that combine economic success with social responsibility and environmental protection in an exemplary manner. It is Europe's biggest award for ecological and social commitment in different categories.
GROHE Is Steadily Developing Sustainability Topics
"I am delighted about the outstanding recognition that we, thanks to our commitment, received from one of Europe's key sustainability initiatives," said Thomas Fuhr, Executive Director Operations at GROHE and board member responsible for sustainability. "The fact that we were able to achieve this excellent result for the third time confirms the continuity and intensity with which we at GROHE pursue sustainability. We will continue to develop and produce innovative and sustainable products that enable our customers to use water and energy efficiently."
Water Usage Has Been Reduced by 16.4 percent in Recent Years
The jury emphasized the fact that GROHE is constantly working on launching sustainable products and developing them further. In addition, the jury positively assessed that GROHE managed to establish sustainable production processes in a resource-intensive industry. Thanks to its own melting furnaces, GROHE is able to control the composition of their alloys. GROHE Light, for example, contains 35 percent less lead than conventional alloys. The company also saves carbon emissions with their combined heat and power plants and since 2014, has cut down on their water consumption by 16.4 percent.
Sustainability Is an Important Brand Value at GROHE
Striving for the highest levels of sustainability is an integral part of GROHE's DNA. For many decades, the global brand for innovative sanitary products has built on the brand values of technology, quality, design and sustainability. GROHE consistently pursues a 360-degree sustainability approach that incorporates the areas of activity of employees, suppliers, plants, processes, products and contribution to society in equal measure. GROHE also follows the 17 Sustainable Development Goals (SDGs) of the United Nations. These include, among other goals, the availability and sustainable management of water and sanitation (SDG 6).
For more information, please visit
www.grohe.com/sustainability
www.nachhaltigkeitspreis.de/en
Matching images, a fact sheet and an infographic can be found here.