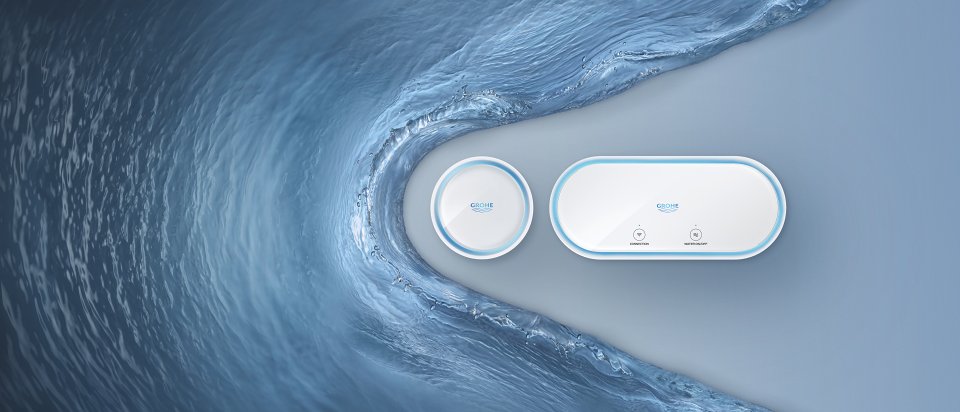 Thanks to GROHE, Your Vacation Plans Won't Fall Through
Product Information
Download area
Identify water damage early on with GROHE Sense and GROHE Sense Guard
Smart control system protects your house even when nobody is home
Immediate action also possible remotely via the corresponding smartphone app
Düsseldorf, 25 July 2018. Finally, some time off! For relaxed vacation time, besides luggage that needs to be packed, you also have to prepare your house for your time away. With a few small precautions, some intelligent technology and help from friends, many risks can be prevented during the absence: If you want to scare off uninvited guests, you should give the impression of somebody still being home. Blinds, lamps and the radio can be switched on and off regularly using a timer. For some tasks, neighbours and friends can be asked for help. For 73% of Europeans, this is the preferred method of protecting their home while they are away. But one question remains: Does the temporary vacation replacement also notify you in case moisture builds up in your house, water leaks and a costly water damage incident is about to happen? Although 49% of those interviewed shut down the water supply to their washing machine and as many as 45% disconnect their main water supply while they are away, 54% of survey respondents have experience with a water damage incident. And almost always quick action is necessary, as burst pipes happen suddenly, even if the homeowner is several hundred kilometres away on the beach. The solution is a smart water security system like GROHE Sense and GROHE Sense Guard – so your vacation plans are guaranteed not to fall through.
Trust Is Good, Control Is Better
The basement fills up with water, mould climbs up the walls, valuable furniture is destroyed – not always can approaching catastrophes be detected early on. GROHE, the world's leading provider of sanitary fittings, offers comprehensive protection against water damage with GROHE Sense and GROHE Sense Guard: GROHE Sense is a smart water sensor that is placed on the floor and can detect water retention. If, for example, the bottom of the sensor comes in contact with water due to a leak, GROHE Sense will send out a warning alert. The sensor also measures the room temperature and humidity and informs users in case of deviations from the standard amounts. Hence, homeowners are optimally protected against frost and mould risks.
Installed by a professional installer directly to the main water pipe of a home, GROHE Sense Guard goes one step further: The smart control unit uses multiple sensors to not only monitor water pressure, system temperature, flow of water or general water consumption, but also to automatically turn off the water supply when it exceeds a specific maximum.
GROHE Sense and GROHE Sense Guard make for an all-in-one, intelligent system that is based on wireless technology which is controlled by the GROHE ONDUS app. This app is the heart of the system, providing the highest level of security and ensuring that GROHE Sense and GROHE Sense Guard can be monitored and controlled anywhere, anytime. Thanks to its smartphone alert feature, the app can also shut off the water supply manually to prevent major damage – even when no one is at home. At the touch of a button, worse outcomes can be prevented, and the long-awaited annual leave can be enjoyed to the fullest.