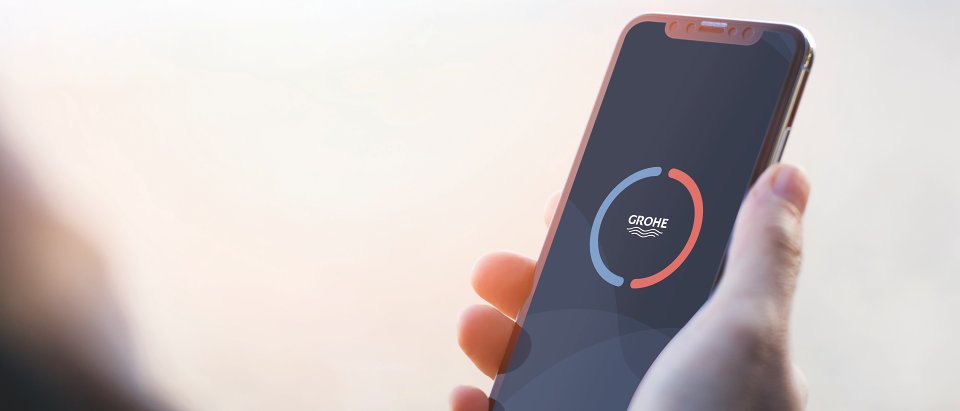 New GROHE Sense App: Water Management on the Go
Product Information
Intelligent controller for the GROHE Sense water management system
Full transparency of water usage and energy costs thanks to new GROHE Sense App
Offers water security anywhere, at any time
Düsseldorf, Germany, 2 September 2019. With the new, intuitive GROHE Sense App, GROHE is taking water security and water management to a new level: The heart of the GROHE Sense water management system lets users monitor and control the system from anywhere, and at any time, providing the maximum level of security. In case of an emergency, a notification is sent to the smartphone. When using the water controller GROHE Sense Guard, the water supply can be automatically turned off. A ground-breaking innovation is transparency on water consumption with an overview of water costs. This not only ensures full control of the valuable resource of water, but also offers the opportunity to adapt user patterns to use water more consciously.
The GROHE Sense App offers new features combined with a state-of-the-art design and an improved user experience:
Overview of Devices and Current Status on Home Screen | On a single screen, an overview of all GROHE Sense water security devices, the current status, measured data, water consumption and all warnings can be found. Multiple rooms and multiple houses can be monitored.
Automatic Warnings | Warnings from GROHE Sense and GROHE Sense Guard are delivered to the app so that the user can react quickly and prevent possible water damage at home. Optionally, alerts can be received by email. The most urgent alerts can also be sent to up to three emergency contacts (part of the next update).
Notification Overview | Shows all alerts, warnings and information in a sorted and transparent view.
Transparency of Water Consumption | On the detailed GROHE Sense Guard screen, the total consumption in litres per day, week or year (GROHE Sense Guard measurement) and costs (based on country average per litre of water or user data) are displayed. As a beta test, hot water estimations plus estimated energy costs to heat water can also be made. The user can adjust all baseline factors like cost per litre, type of heating or heating costs in the settings to personalize the dashboard. For complete oversight and control, the app also shows regular measurements of water pressure and the system's temperature.
Sense Detail Screen | Detailed information on humidity and temperature is available. The User can set individual thresholds and gets notified if there are deviations or a frost risk.
On/Off Mode | When using GROHE Sense Guard, water can be switched off manually via the app – even when the user is on holidays.
Easy Installation | Step-by-step guide through the setup process and facilitation of the installation.
GROHE is Shaping the Future of Water Security
Besides the app, GROHE's water management system comprises two products: The smart water controller GROHE Sense Guard is directly installed in the water pipe and tracks water consumption, detects micro leaks and in case of a detected burst pipe it automatically shuts off the water supply. The water sensor GROHE Sense detects leaking water, tracks temperature and humidity and alerts you automatically when the numbers are unusually high or low.
With the intelligent GROHE Sense water management system, GROHE has established itself as a driving force of the digital transformation within the sanitary industry. By collaborating with cross-industry partners such as insurance companies, prefabricated house manufacturers, housing associations and security technology providers, the global brand has created a water management platform to fight water damage.
For more information on the GROHE Sense App, please visit: www.grohe.co.uk/en_gb/smarthome/sense-app
The app is available for iOS and Android.
Images of the GROHE Sense Guard App can be downloaded here.