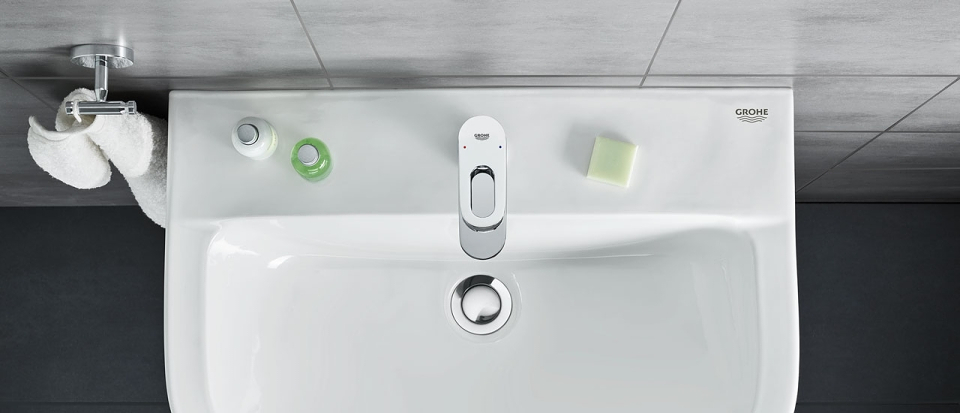 GROHE's First Ceramic Collection: Bau Ceramic Is the Perfect Choice for Bathrooms in Residential and Public Buildings
Product Information
Download area
PerfectMatch in form and function for GROHE bathroom products
GROHE positions itself as a full-service provider for the bathroom
Minimalist design with striking lines and clear shapes
Innovative technologies thanks to ceramic expertise provided bysynergies with LIXIL
The new Bau Ceramic collection blends harmoniously into any bathroom settingand features a timeless look with soft, rounded shapes. The discreet design of Bau Ceramic makes it the perfect choice for bathrooms in both residential and public buildings, such as hotels. Additionally, the collection has been made to perfectly match in form and function with a selection of GROHE taps, flush plates and accessories. This will allow installers, architects and project planners to compose visually coordinated bathrooms –completely by GROHE.
GROHE Bau Ceramic Collection –Versatility for a Modern Life
For the design of the washing area, the basin collection comprises three wall-hung basins in widths of 55cm, 60cm and 65cm and a handrinse basin that is 45cm wide. A pedestal and semi pedestal are available to cover the siphon. The collection also has built-in basins that can be dropped in or built in from under the counter. For WCs, the collection offers a broad range of products that are both rimless and timeless: In addition to a wall-hung, wash-down WC, there is a floor-standing version with a horizontal or vertical outlet. Floor-standing closed coupled wash-down WCs – one with a horizontal and one with a vertical outlet – are also available. WC seats with optional automatic soft-closing covers complete the series. The Bau Ceramic urinals come with a concealed inlet/outlet or top inlet. The range also includes a wall-hung bidet as well as a floor-standing one.
Innovative key technologies
GROHE Bau Ceramic boasts innovative key technologies at an attractive price. With the GROHE rimless technology, the complete surface of a GROHE Bau Ceramic toilet is easy to reach and effortless to clean, to meet the highest hygiene standards. The GROHE quick release function allows seats to be removed easily for better cleaning. This saves time and ensures that the bathroom remains hygienic.
Perfect matches for the bathroom
Every ceramic and tap combination has been tested by experts. GROHE Ceramics can be combined with GROHE taps and WC flush plates to complete the look, promising the highest level of comfort, without splashing. Installation has been kept simple and the product reliable thanks to a five-year consumer guarantee on the GROHE Ceramic. The range is supplemented by coordinating GROHE Bau Cosmopolitan accessories, such as soap dispensers and towel rails.
Bau Ceramic, Euro Ceramic and Cube Ceramic–PerfectMatch Solutions from a Single Source
With its ceramicslines Cube Ceramic, Euro Ceramic and Bau Ceramic, GROHE has become a full-service bathroom supplier creating the perfect combination of design and functionality. From washbasins in different sizes to bidets and toilets, GROHE offers a comprehensive assortment of bathroom ceramics that will suit every style and perfectly match GROHE faucets, toilet flush plates and accessories. Above all, partners who want to serve their customers' individual wishes with PerfectMatch solutions from a single source benefit from the fully integrated ceramics lines.
Thanks to innovative technologies, GROHE ceramics are characterised by maximum hygiene, longevity and comfort –an excellent combination of form and function. Euro Ceramic features a modern style and flowing lines. With its geometric and clean lines, Cube Ceramic highlights the contemporary bathroom's luxury and exudes sophisticated elegance. Bau Ceramic blends harmoniously into any bathroom ambience and strikes with a timeless look and soft, rounded shapes.