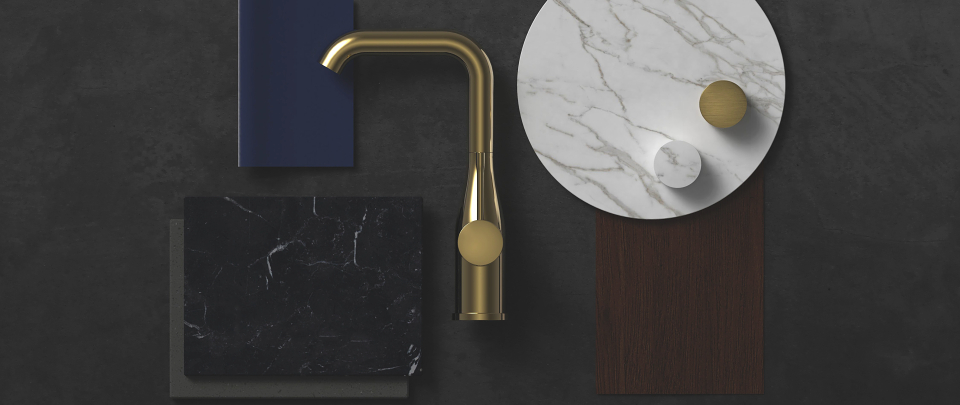 GROHE Colors Collection Extension Offers Ultimate Bathroom Creativity and Choice
Product Information
• Consumers are becoming creators and their expectations of sanitary specialists are changing
• GROHE supports the trend with products like the Colors Collection and Full Bathroom Solutions, giving them the freedom of choice and opportunity to create a perfectly coordinated bathroom
• With ten color and finish variations across many GROHE series, installers can help customers personalise their bathroom like never before – from faucet to flush plate

Düsseldorf, Germany, 26 June 2019. Today's homeowners want individuality. The chance to customise the look and feel of their home to reflect their unique personality. Now, thanks to the comprehensive extension of the Colors Collection from GROHE, it's easier than ever for anyone to create their own personalised bathroom oasis – from the color, style and finish of showers and faucets right through to the accessories.

Working with Trade Partners to Get Full Bathroom Solutions Right
But as customers seek to play a more active role in the design process, they need specialist advice and expertise that can help them make the right choice – for them. Because when it comes to implementing highly individualised products and innovative technologies, an understanding of integrated solutions is still required. Supporting trade partners that work face-to-face with consumers, GROHE offers a wide collection of perfectly coordinated products and Full Bathroom Solutions to match the personalised bathroom-concepts consumers create. This particularly benefits retailers, planners and installers, as the advice on product selection and bathroom design is simplified and focused. They can rely on GROHE`s Perfect Match making it easy to select products that fit together effortlessly on three principals: aesthetics, performance and comfort.
"Consumer expectations are changing to a great extent," says Michael Rauterkus, CEO GROHE AG. "At GROHE, we are answering this demand by shaping the future of water in terms of design and innovation. We are giving customers the building blocks to express their individual lifestyle and we are giving our trade partners solutions that address what we believe is the key to customer satisfaction: being able to choose and personalise a full bathroom solution. GROHE is committed to building strong relationships with our trade partners to make our Full Bathroom Solutions and the extended Colors Collection a success – both for our own business and theirs."

Unrivalled Color Variety
One of the key features of the new GROHE Colors Collection is the unrivalled breadth of choice it gives customers when it comes to color. Indeed, GROHE is the only bathroom supplier to offer a color portfolio for fittings, showers, accessories and flush plates – all made to the highest quality and finish, using the company's innovative Physical Vapor Deposition (PVD) manufacturing process. The process ensures a broader range of colors while at the same time making it possible for the finishes to be three times harder and ten times more scratch-resistant than galvanised finishes.

Besides Classic Chrome, the Collection's other eye-catching color designs include: SuperSteel, Cool Sunrise, Warm Sunset, Nickel, and Hard Graphite. For a full list of variants available, click here.

Full Bathroom Solutions
As a full-featured supplier, GROHE offers full bathroom solutions. This simplifies the process of planning and installation for trade partners by bringing together an extensive, holistic portfolio of faucets, shower systems and accessories, as well as a carefully selected range of sanitary ceramics all in one place. It also gives customers the chance to select individual elements that match their individual tastes and needs.

For more information about the GROHE bathroom range, including the new Colors Collection, visit: www.grohe.com