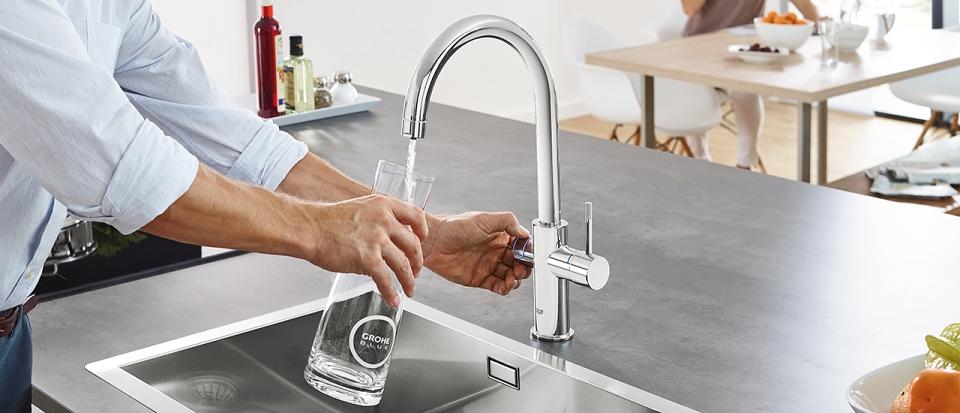 GROHE Blue Home – The in-house source of unlimited Drinking Enjoyment
Product Information
Download area
Time and space savings instead of heavy shopping carts and bottle refund slips
Sustainable lifestyle that everyone enjoys
Instantly installed in every kitchen
Every revolution changes people's lives – and that already starts in the kitchen. A case in point: How about not having to drive to the supermarket on Saturdays ever again to carry cases of water bottles into your pantry? Instead, you can now pour still, medium or sparkling water that is tasty, filtered and chilled to the optimum drinking temperature directly from a striking kitchen faucet. The epitome of this convenient enjoyment is called GROHE Blue Home.
Compact design and easy to install
With the complete GROHE Blue Home water system consisting of a special kitchen faucet and a cooler with an integrated filter and a CO2 tank, there is always enough drinking water at your disposal, even if unannounced visitors stop by. The fresh premium taste will delight everyone. In addition, time-consuming and exhausting shopping trips for cases of water as well as extra storage space are no longer needed. And speaking of space: GROHE Blue Home will find its spot even in the smallest kitchen. The compact design of the drinking water system fits in almost every kitchen and can be easily installed in just a few steps. Kitchen cabinets with a width of 30 centimetres are already big enough for the installation of the cooler. The integrated filter for optimum water quality and the CO2 tank for sparkling water enjoyment can be changed easily at the front of the unit. Replenishment can be conveniently ordered in the GROHE Blue online store and delivered directly to your home.
GROHE Blue Home tastes good and saves money as well as CO2
There are also advantages when it comes to lifestyle. Those who use tap water drink up to 35% more than users of bottled water . At the same time GROHE Blue Home even saves money. Compared to the consumption of branded bottled water, costs are reduced by up to 60%. Using the private household's water only costs about 15 cents per day. The CO2 consumption is also reduced by about 61% compared to bottled water.
Eye-catcher in every kitchen
GROHE Blue Home is a stunning statement piece in every kitchen. The slim faucets feature intuitive, colour-illuminated touch activation. The faucets are available in Chrome and SuperSteel finishes as well as with three different spout moulds that fit every sink and kitchen. In addition to the duo version with two waterways for utility water and filtered water, GROHE also offers a mono version, which can be optimally installed as a supplement to an existing faucet in the kitchen. GROHE has already won several awards with GROHE Blue Home:
Green Good Design Award 2017
Best of the Best Iconic Award: Interior Innovation 2017
Golden Award – "Best of the Best" at the KitchenInnovation of the Year 2017 competition
Red Dot Design Award 2017
"Best of Best" Iconic Award 2017