MORE SUSTAINABILITY – THANKS TO INTELLIGENT PRODUCTS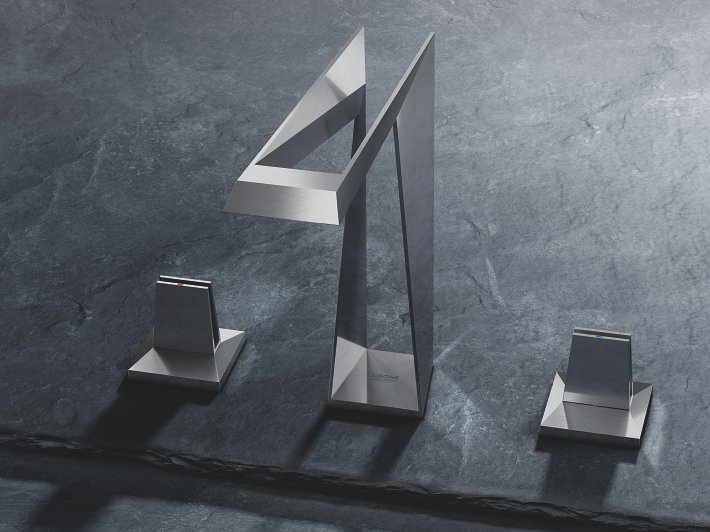 GROHE ICON 3D
The 3D metal-printing process presented at the ISH 2019 trade fair is a particularly resource-efficient method of manufacturing faucets. The process only consumes as much material as is actually needed. It makes it possible to manufacture components such as spout and handles much thinner, thus saving material. Comparing the new Icon 3D faucet with its analog Allure Brilliant predecessor made of brass a weight reduction of 55% is achieved.
In addition, the energy used for producing a 3D metal-printed faucet is about 20% lower compared to the production energy used for a brass cast body.
Slide to the right to discover more products with a sustainable impact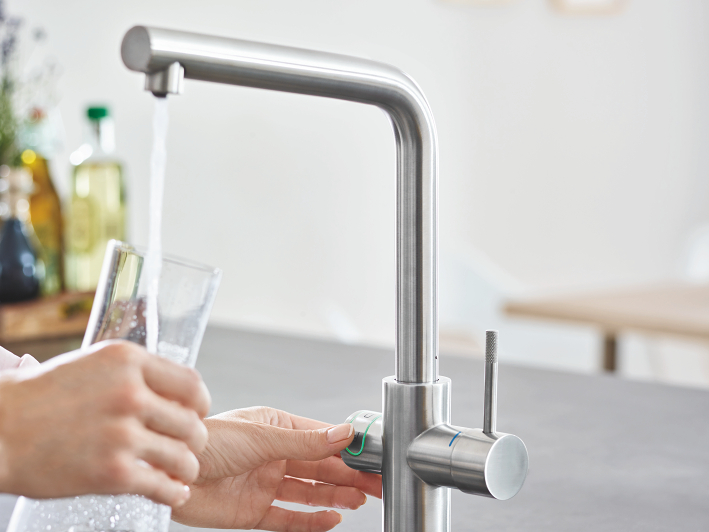 GROHE Blue
GROHE Blue is a water system that transforms ordinary tap water into filtered, chilled, still, medium or sparkling water.
With a GROHE Blue in the home, families never need to buy water in a plastic bottle again. Based on the German average, for a family of four that means 800 bottles per year.
To produce 1 litre of bottled water an amount of up to 7 litres is needed. GROHE Blue only needs 1 litre.
In addition, university studies have shown that our GROHE Blue system saves more than 60% of CO2.
Discover more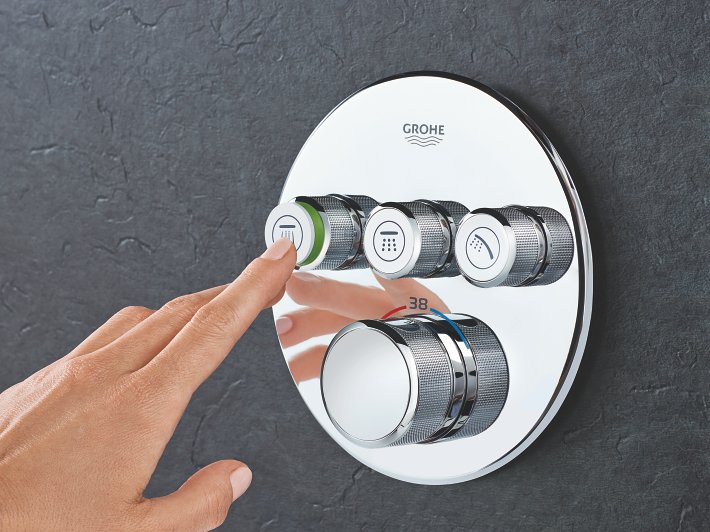 GROHE SmartControl
The innovative shower control lets the user adjust the volume and temperature effortlessly, as well as selecting the preferred spray and switching between head and hand shower. Operation is simple and easy – simply push to start and stop, then turn to adjust the water volume gradually – from eco to full flow. The SmartControl control unit is supplied with clearly and easily recognizable symbols for the different shower or bath options, that´s why every user, age-independent, can easily use this shower control.
Discover more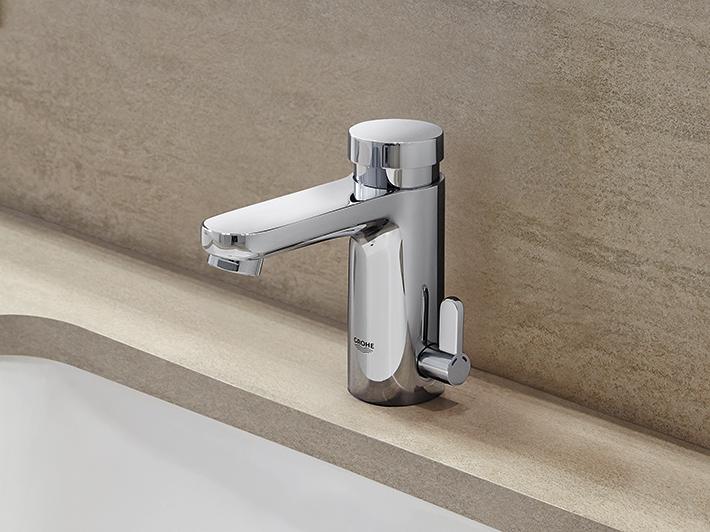 Self-Closing Faucets
Releasing the water flow at the touch of a button and then stopping it again automatically is the main function of self-closing faucets, which can often be found in schools, sports facilities, motorway service areas and other transport facilities, as well as in industrial and commercial premises. Their intuitive operation makes them ideal for heavily frequented public and semi-public sanitary facilities. Thanks to robust technology, they are durable and vandalism-protected and only dispense water when needed.
Discover more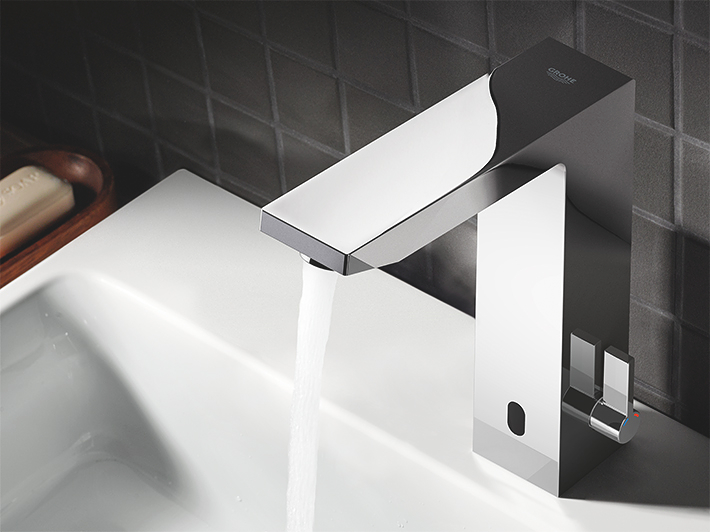 GROHE INFRARED FAUCETS
Using touchless faucets can reduce water consumption by up to 70% and contribute significantly towards green accreditation. Thanks to infrared sensing, water flows through these faucets only when needed: when a hand is underneath the spout. Depending on the model, the mixer automatically turns off and saves water when the user removes his or her hands, for example when applying soap, or after a pre-set time.
Discover more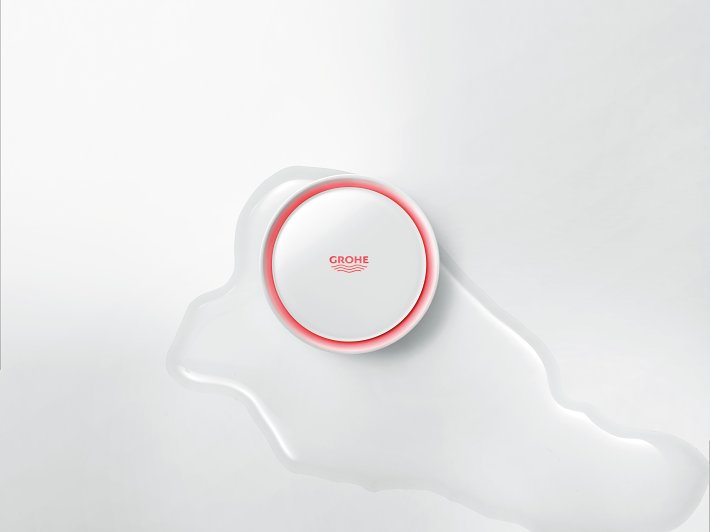 GROHE Sense
The GROHE Sense water sensor measures room temperature and humidity, detects water leakage and alerts when measured data are unusually high or low.
Prevents potential damage!
Discover more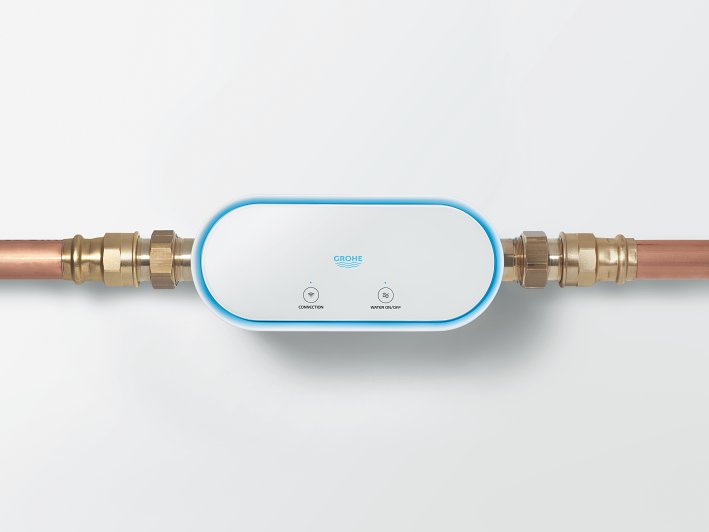 GROHE Sense Guard
The GROHE Sense Guard is installed directly on the main water pipe and can automatically stop the water supply if, for example, a leakage is detected.
Discover more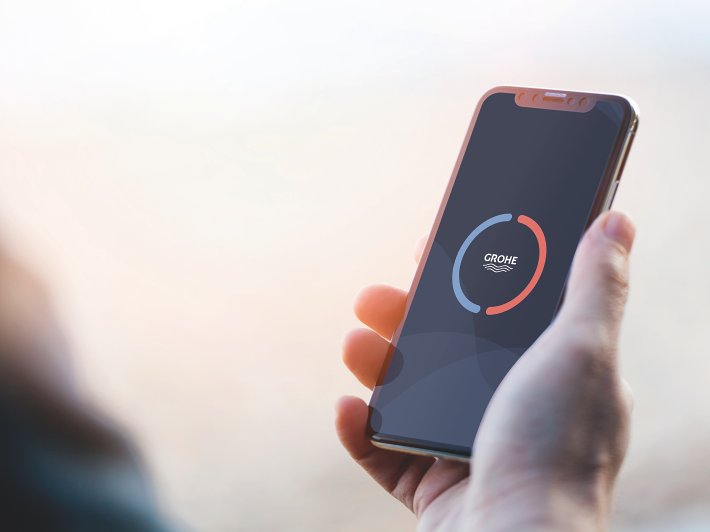 GROHE Sense App
The new generation of the GROHE Sense water safety system enables full transparency in water consumption and energy costs thanks to the new GROHE Sense App. By entering their water and energy prices, customers receive a concrete breakdown of their costs. Visibility helps to adapt one's own usage behaviour and to handle water more consciously.
Discover more
MORE SUSTAINABILITY – THANKS TO INTELLIGENT TECHNOLOGIES
GROHE has developed a line of smart water-saving technologies that use less water but do not reduce the enjoyment of the experience.
GROHE EcoJoy
A flow restrictor reduces water consumption from 10 liters per minute to just over 5 liters.
An aerator provides the same voluminous experience as that offered by a regular faucet
UP TO 50% REDUCTION IN WATER CONSUMPTION.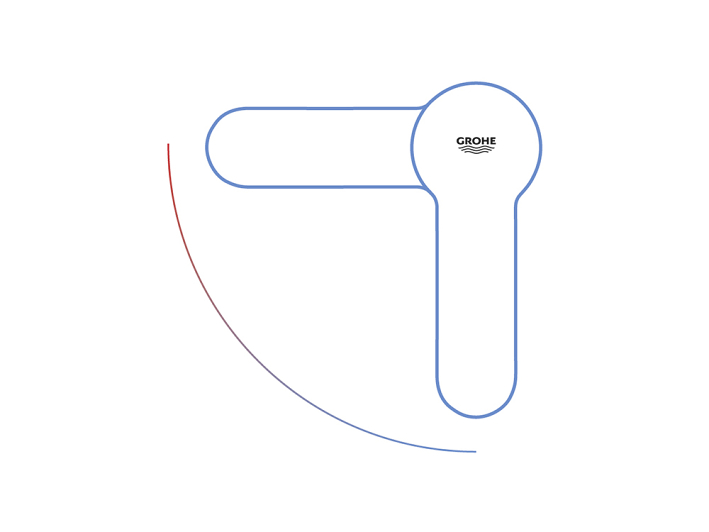 GROHE SilkMove ES
Prevents unnecessary production of hot water by supplying cold water with the faucet lever in the middle position of the fitting.
THANKS TO INFLOW OF COLD WATER ONLY, NO USE OF HOT WATER IS NECESSARY.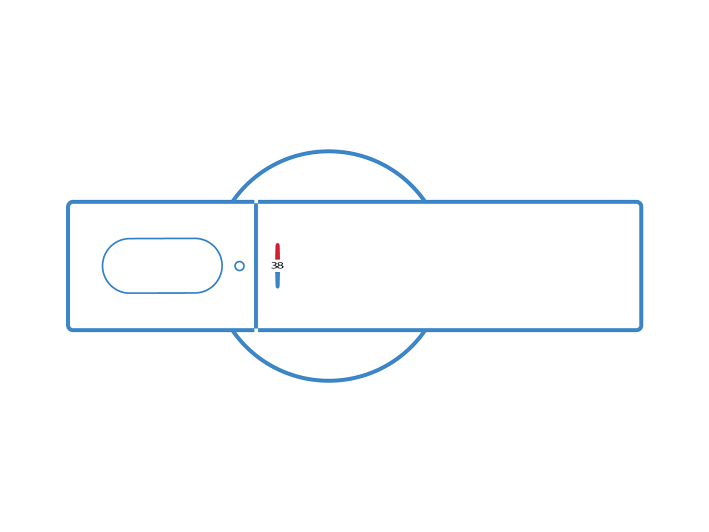 GROHE TurboStat
Instantly delivers the desired shower temperature and keeps it constant for the duration of the shower.
DELIVERS THE RIGHT TEMPERATURE WITHIN A FRACTION OF A SECOND.
Water- and CO2-Savings BY USING GROHE SilkMove ES, BASED ON A FAMILY OF FOUR
31,412
litre per year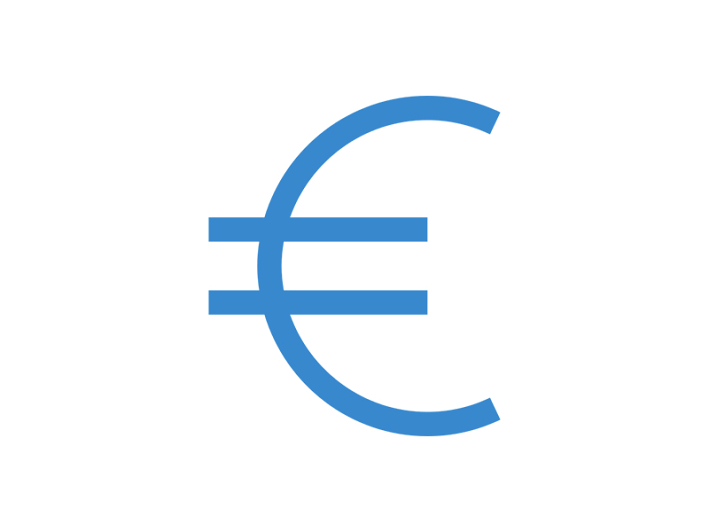 263,54
EUR per year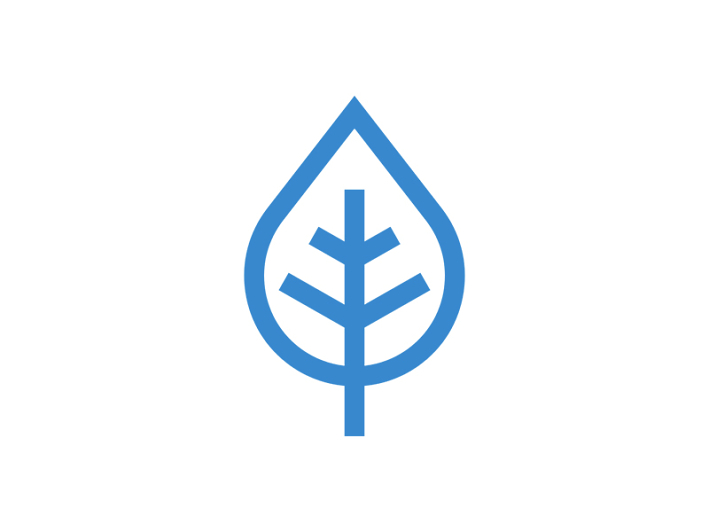 279
kg CO2 per year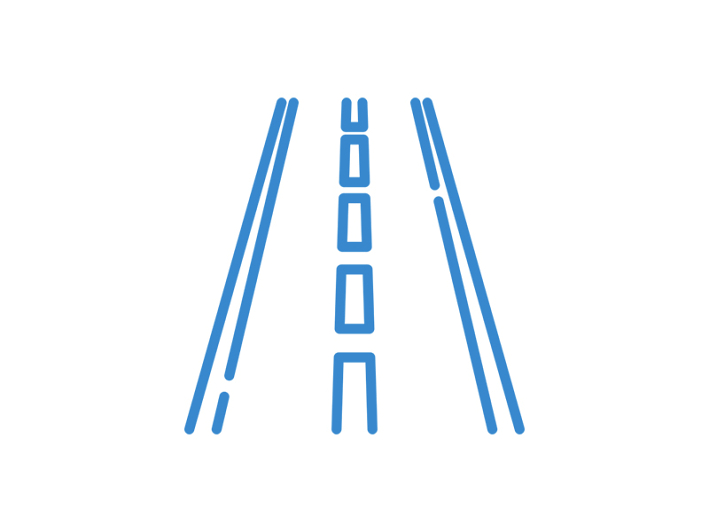 1,544
km with a compact car
(120g CO2/km)
Ceramics with new features reduce use of detergents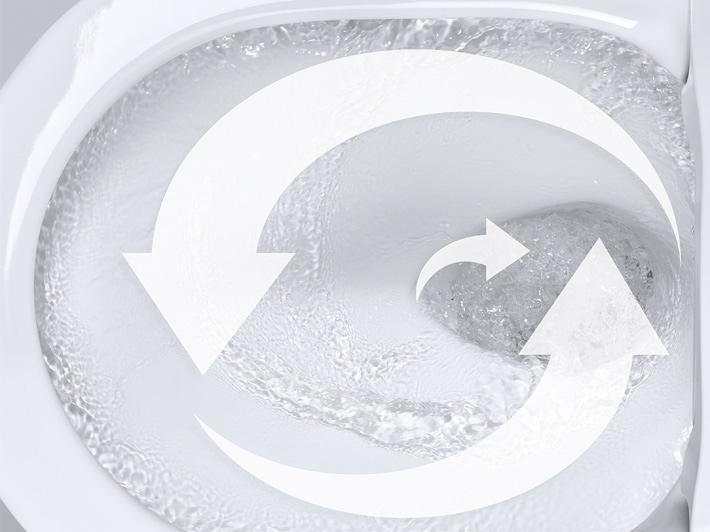 TRIPLE VORTEX FLUSH
Three water outlets in the bowl create a powerful vortex effect that leaves nothing behind. Every corner of the bowl is covered and cleaned.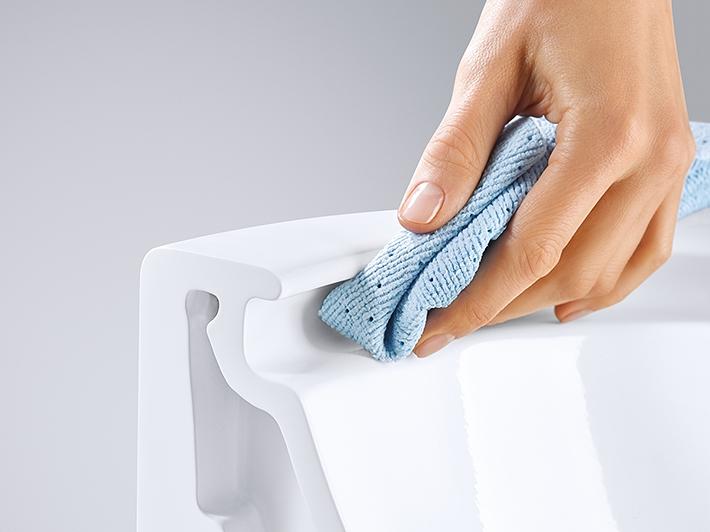 RIMLESS TECHNOLOGY
With GROHE rimless technology, every surface of your toilet is easy to reach and effortless to keep clean, even in places you can't see. It makes bacteria hiding in corners and crevices under the rim a thing of the past. GROHE rimless technology leaves bacteria nowhere to hide.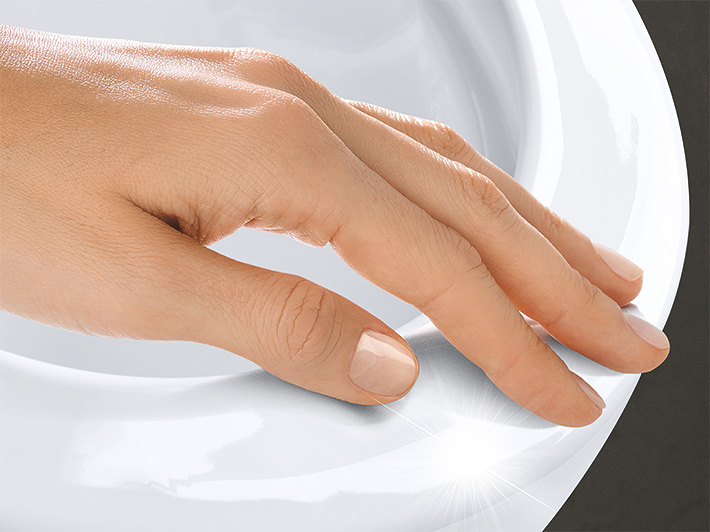 PURE GUARD
Long-lasting ions with an anti-bacterial effect prevent bacteria growth and keep your ceramics clean and germ-free. The smooth surface also locks out dirt resulting from limescale and grime and is effortless to clean.