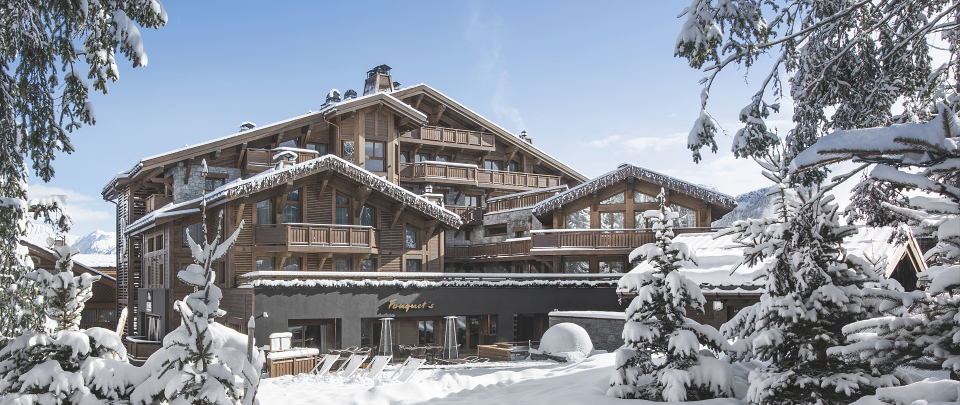 Winter Wonderland Deluxe: GROHE presents 3 top tips for the perfect getaway this winter season 2020
Produktmeldungen
Düsseldorf, 13 January 2020
GROHE, a leading global brand for complete bathroom solutions and kitchen fittings, presents its newly launched Reference Book Vol. 9 featuring spectacular buildings in fascinating international locations, all built with GROHE designs. Alpine resorts like the Swiss Hide Hotel, luxurious chalets like Hôtel Les Neiges, France, or the quiet, remote modular home DublDom in Russia: Every one of these three winter hideaways has a special charm of its own. They combine modern architecture with innovative design and sustainable technology, proving that architects and designers worldwide trust in GROHE products for their projects.

#1: The Hide / Flims, Switzerland
Taking a fresh look at the style concept of an Alpine resort, The Hide Hotel Flims avoids the clichés and instead injects a cosmopolitan sophistication. Found in Switzerland's Graubünden region the hotel is part of the bold new Stenna Flims complex, which includes retail spaces, a cinema and bar, and is situated right by the ski lifts for a 'ski-in, ski-out' experience. The interior design by super-hip studio Stylt Trampoli uses jewel-bright emeralds, purples and reds to give the interior glamour and warmth. The comfort of a traditional lodge is evoked with generous fireplaces, rich textures and natural materials. The bedrooms in particular use layers of texture to keep the guests feeling cosy and cocooned, including glass, velvet, intricate metalwork and full-height marquetry walls.

GROHE products: In the bathrooms, GROHE Essence basin mixers and Euphoria shower systems are specified in the cool, urban Brushed Hard Graphite finish toning perfectly with warm pink basins.

#2: Hôtel Les Neiges / Courchevel, France
Snow-topped roofs and carved balconies – Hôtel Barrière Les Neiges has all the charm of a traditional chalet. Situated in the heart of legendary ski resort Courchevel, at the foot of the Bellecote slope, the hotel has 42 rooms, all with a reassuring chalet feel. They feature sloping ceilings and wooden balconies, but use pale woods and soft, neutral fabrics to give everything a modern, luxurious feel. The public spaces offer a warm, enveloping environment after a day on the slopes, with rich red velvets and chunky natural wood tables. In the guest bath- rooms a similar feel prevails, with the tactile appeal of slate, marble and wood used to create spaces in which to unwind.

GROHE products: The modern organic style is perfectly evoked in the GROHE Allure basin mixer, its rounded form complementing the bathrooms' sculpted, freestanding tubs. In some suites you can even soak in the bath while looking over the fabulous mountain views.

#3 DublDom / Kandalaksha, Russia
In the isolated Russian town of Kandalaksha, Moscow-based BIO Architects have recently constructed a remarkable prefabricated safe haven for hikers, skiers and nature lovers. Located north of the Arctic Circle, DublDom in Kandalaksha benefits from amazing views of lakes, moun- tains and sea. Built to sleep eight, the striking prefab is the latest example of DublDom modular homes that are affordable, customizable, and engineered with precision. Since the prefab could only be installed via a helicopter, the architects had to prioritize minimizing the weight of the structure. A year in the planning, the actual installation took only 45 minutes from start to finish. BIO Architects began the process with the standard DublDom modules and selected building materials and fit- tings that followed stringent criteria for durability, energy efficiency, and weight. The south-facing full-height window provides the house with passive heating.

GROHE products: The GROHE Eurostyle Cosmopolitan single-lever sink mixer was installed in the compact and highly practical kitchen to withstand the rigours of this remote location.

We hope that you enjoy the top 3 GROHE winter hideaways just as much as we do. We would be happy to keep you up to date about other remarkable international GROHE design hotels.

Further information about GROHE's product portfolio can be found here: www.grohe.com

A press kit with imagery and product shots is available for download here.