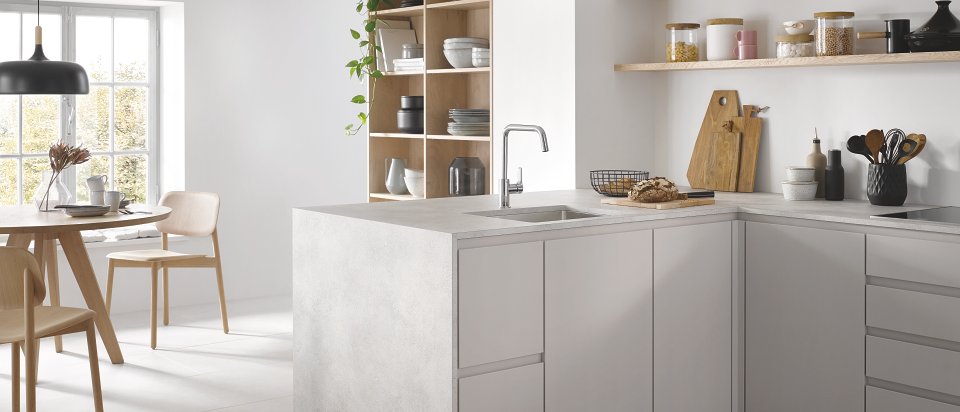 A shining star in the heart of our home: GROHE Eurosmart kitchen faucet line comes in modernized design
Produktmeldungen
● Brilliant centerpiece: GROHE Eurosmart kitchen is a real allrounder and combines iconic design with maximum comfort.
● Upgrade in functionality: efficient kitchen helper, safe water flow, easy installation.
● 60 centimeters, big impact: Holistic kitchen solutions unite perfectly matching faucets, sinks and waste separations systems help ease daily kitchen tasks.

Düsseldorf, 25th February 2021 – Our home has become a hideaway and cocooning space where we can relax and enjoy important moments for ourselves, with our family, and with our friends. Living spaces have evolved and merged together: The bathroom is moving even closer to the bedroom and relaxing area while our dining and living room fuse with the kitchen to create one central space where life is happening. Therefore, a holistic interior design that perfectly represents personal style has come into new focus. Individual solutions and curated concepts for modern kitchens have gained increased popularity. With the Eurosmart range, GROHE, a global brand for complete bathroom solutions and kitchen fittings, presents a product line at an affordable price which perfectly fits into every kitchen setting. Its refreshed slim and contemporary design combined with comfort functions to meet everyday needs makes the faucet the shining star in the heart of our home – the kitchen.

All-time classic meets modern functionality
The GROHE Eurosmart kitchen faucet is available in various product variants with three spout heights and two different finishes, offering a perfect match for individual tastes. No matter if you prefer low or high spout faucets, U-shape or C-shape forms, classic chrome or a stylish supersteel finish – the modernized GROHE Eurosmart line is as diverse as consumers' needs. Especially a hands-on space like the kitchen requires functional helpers to assist in overcoming everyday challenges like preparing meals or cleaning dishes. When, for instance, filling pots with water, high-spout faucet variants offer extra comfort and are therefore perfect supporters.

Extensive functionality and easy installation go together: Thanks to the new GROHE Fast Fixation Plus feature, the pre-assembled Eurosmart faucet can be installed effortlessly and without any tools. This makes installation a true walk in the park. Moreover, all product variants are equipped with GROHE Zero technology. Dedicated inner waterways ensure that the water has no contact with lead- and nickel within the faucet. Moreover, there is no contact between these inner waterways and the body material which results in a barrier between hot water and the external surface that helps prevent scalding on hot surfaces. This makes Eurosmart faucets extra safe, especially for households with children.

Holistic concepts for a coordinated kitchen design
The 60 cm surrounding the Eurosmart faucet, the star of the kitchen, come out big with GROHE's holistic kitchen concepts. A broad variety of sinks in different sizes, designs and materials complement GROHE Eurosmart faucet and, together with harmonious accessories, create a matching kitchen concept. Also, the space underneath the sink needs to be well thought out: Practical waste separation systems complete the full convenience for the heart of every home.

+++ For further information and press material on GROHE Eurosmart kitchen and matching GROHE sinks please see the following link.+++