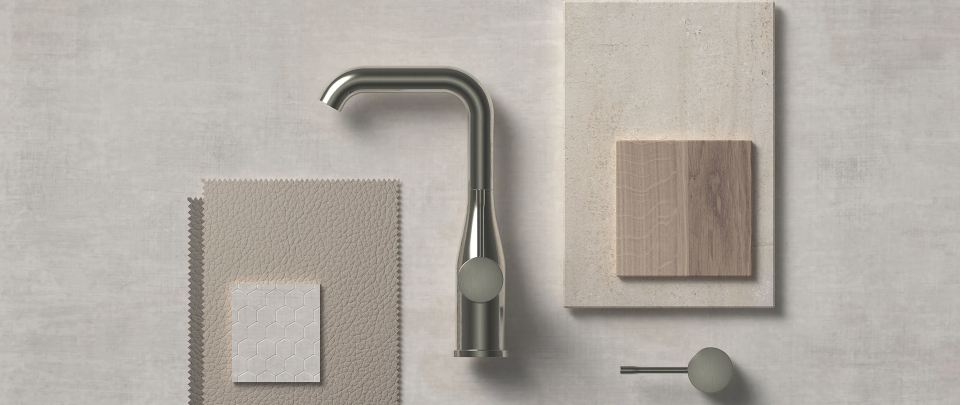 THE BATHROOM AS THE NEW "ME" SPACE: USING DESIGN AND COLOUR FOR SELF-EXPRESSION
Produktmeldungen
When it comes to building or renovating their homes, consumers nowadays are also stepping into the role of creators. For many, their living space is a lifestyle and personality statement, a space where their personal tastes manifest. This creative flair however, is not only seen in bedrooms and living rooms anymore. These days, bathrooms have become the new "me" space – giving consumers an additional area where they can express themselves freely through design and colour. In this interview, GROHE Vice President Design Michael Seum and internationally renowned trend expert Gudy Herder (Eclectic Trends) discuss current megatrends and design tips that provide inspiration for individual bathroom makeover projects.

What are the new design megatrends you are seeing today?

Michael Seum: How people define their living spaces has radically changed in the last few years. At GROHE, what we have seen can be summarised into three megatrends: Consumers are creating new living spaces, they are becoming creators, and they prefer things to be simple. Nowadays, consumers are taking an active and creative role in ensuring their living areas reflect their unique personality and style – and this is becoming true even for spaces beyond the bedroom and living room. Kitchen and bathrooms are no longer merely functional, they are "new living spaces" which also reflect the consumer's personal touch. Naturally, on top of these living space and personal design trends, people gravitate towards simple and easy solutions.

How did these trends start?

Michael Seum: Our world often feels too hectic now, every day is full of appointments. Yet even amidst the chaos, there is pressure to do things a certain way. Design and colour appeal to us on a deep emotional level because they allow us to express ourselves – our unique selves – in our own way. By creating with design and colours, we bring our personality and individuality into our living space. We are able to block out external chaos and make our own rules.

Gudy Herder: Design and colour are tools to express who we are and what we stand for. Design is becoming increasingly personal and moving away from simply copying fixed design themes. The focus now goes back to the person and their own current life situation: Is my daily life too hectic that I want my home to be quiet and cosy? Or do I want to feel energised and stimulated in my home? These questions spark the desire to create! We achieve the mood we want using design and colours.

How has personal creativity reached the bathroom?

Gudy Herder: The bathroom at home is often overlooked, but that perspective has been changing. Bathroom and toilet rooms used to be in a completely separate world – purely functional and disconnected from the rest of the living area. Now, we are beginning to discover how the bathroom is an important component of our home aesthetic. The colour theme and design materials of our home should also be reflected in our bathroom, let's think of the bathroom as an extension of our interior world applying similar colour, materials and even furniture.There are no conceptual boundaries anymore – the design transition connects all rooms in a home.

Michael Seum: The bathroom is a traditional oasis of individual serenity and relaxation. An oasis we crave in times where the world is going hyper speed, and at the same time there is a certain predictable uniformity. Design allows consumers to personalise their spaces, using furniture, accessories and even something as simple yet powerful as their favourite colour.

Speaking of colour, colour palettes for the bathroom also evolved through the years. In the 70s, avocado green and mustard yellow themes were normal to have in the bathroom. Then the renaissance of pure white followed. How is colour being used in bathrooms today?

Gudy Herder: Visual and social media certainly play a major role in this. Tutorials on Youtube and private homes on Instagram are shared constantly. Only on Instagram 96 million images are shared every day. We have much more access now to different colour combinations. This opens our eyes to new colour varieties and encourages us to experiment freely. We are noticing how easy it is to become expressive with colour, how to create a mood with it. It offers us a flexible element to express ourselves. It's not about colour theory, but about the feeling: What emotions does this colour evoke in me? For example, some might opt for a timeless and minimalist neutral colour If the idea is to have a calming nurturing environment because this is what I need right now. Individuals are more interested in discovering a personal colour world rather than following colour trends that won't speak to them.

Michael Seum: People want to be creative and construct new living spaces inspired by their own experiences. For example, if I'm inspired by a design theme I saw during my travels in Indonesia, I could create a similar theme in my home as well. As designers, we have to stay in tune with these consumer developments, yet still be able to offer simple and timeless designs.
At GROHE we have responded to these consumer developments and even set the pace to give customers the freedom of choice. A perfect example would be GROHE Colors Collection – our carefully curated range of colours and finishes for all touchpoints in the bathroom. From taps to showers, right down to accessories and flush plates, you can choose the GROHE colour that embodies your true self – a minimalist, classic chrome for example, or a playful warm sunset-like colour. There is no fixed bathroom template anymore – you define your own space.

So how should one begin designing their dream bathroom?

Gudy Herder: It can help to make yourself a kind of mood board. Take your time and think about it: What is the mood I want to have in my home? A mix of old and new? More feminine with rosé or beige tones? Do I want naturally rustic materials? The bathroom is increasingly turning into a "me" space – a place of retreat. Maybe I see my bathroom as my own personal spa. Therefore, I would furnish the room according to that mood. Ceramics, tiles and fittings are now available in a variety of colours and shapes to achieve the bathroom you want.

Michael Seum: Start with sparking your creative mind. Imagine yourself in the room and ask yourself: What appeals to me emotionally? The entire bathroom concept is built from this starting point. There is no right nor wrong choice of colour – the only thing that matters is that the result should be harmonious.

Picking a colour or inspiration as a starting point is easy but making sure the whole bathroom is harmonious or matching could be a bit overwhelming. What would you suggest for people who need help in this area?

Gudy Herder: Just ask yourself: What is important to me? Do I want to integrate a certain design element or a piece of furniture into my bathroom so that my own self is captured the way I want it in the space?

Michael Seum: As designers, it is our task to inspire people and support them in translating emotions associated with certain elements and colours into a coherent concept. As mentioned before, discover your starting point. This can be a special fitting design, a lighting concept or a specific colour. Coming from one starting idea, GROHE offers full bathroom solutions, making it easy to perfectly match products together based on aesthetics, performance and comfort. At GROHE, we make it easy for consumers to create a bathroom concept tailored to their own personality. That is true balance and harmony for us.

That is why GROHE developed Perfect Match, making it easy to select products that fit together effortlessly on three principals: aesthetics, performance and comfort. Save yourself the trouble of trial and error and instead find your perfect match.

Feeling inspired and ready for your next design update? Visit GROHE…

For more information, please visit www.grohe.com.