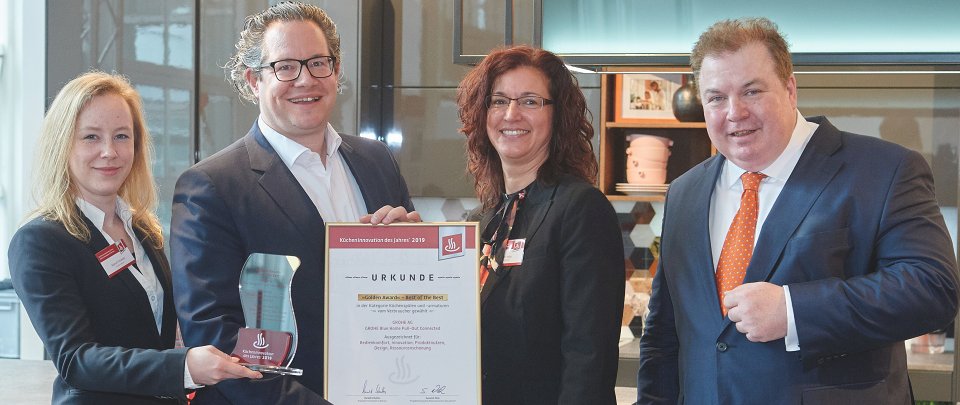 Smart Water System: GROHE Blue Home Pull-Out Connected is "Kitchen Innovation of the Year 2019"
Produktmeldungen
• GROHE Blue Home Pull-Out Connected water system is honoured by consumers thanks to its product benefits, user-friendliness and design.
• With smart multiplicity in function and form, GROHE Blue Home is a clear trend setter.
• The winners' selection process is consumer-oriented and offers simple, objective and transparent help when purchasing products.
Düsseldorf, Germany, 13 February 2019. The smart GROHE Blue Home Pull-Out Connected water system impressed the expert jury and consumers twice: In addition to receiving the "Kitchen Innovation of the Year 2019" award, the convenient alternative to bottled water was also awarded the "Golden Award – Best of the Best" for being the class leader in the "kitchen sinks and kitchen fittings" category. "Cooking and kitchen trends of the future – what do generations X, Y and Z expect?" That's the question the initiator of the award "Kitchen Innovation of the Year", the independent LifeCare initiative, further investigated while selecting this years' award winners.
Consumers Convinced of Product Benefits, User-friendliness and Design
During the two-stage voting process GROHE Blue Home Pull-Out Connected was able to equally score points with the expert jury and in the consumer survey thanks to the water system's trend character and advantages. GROHE Blue Home Pull-Out Connected combines convenience and enjoyment in a sustainable way and visually provides a true eye-catcher in every kitchen. This is how intelligent water enjoyment becomes even more simple: Still, medium or sparkling water that is tasty, filtered and chilled to the optimum drinking temperature comes directly from the striking kitchen faucet. "Receiving the double award makes me very happy, since the expert jury as well as the consumers confirm our belief that with GROHE Blue Home we have developed a product that is indispensable in the kitchen of tomorrow. The real success of GROHE Blue Home is that it brings consumer needs such as convenience and enjoyment into perfect harmony with the intelligent and conscious use of water as a resource," says Michael Rauterkus, CEO of GROHE AG, summing up the award.
Versatility in Form and Function
GROHE Blue Home is a small revolution in the kitchen: Time-consuming water bottle purchases and bothersome hauling of water cases have become a thing of the past. The slim faucets feature intuitive operation and are available in Chrome and Supersteel finishes, as well as in three different spout versions that will fit any sink or kitchen. GROHE Blue Home stands for versatile functionality in everyday life: With the duo model, both normal mixed water as well as chilled, filtered and carbonated water can be made available at the touch of a button. The pull-out spout provides ultimate flexibility. It leaves nothing to be desired for kitchen enthusiasts and ensures that all the functions of a modern kitchen faucet are retained for the kitchen routine.
Fit and Convenient Thanks to Smart App
Another highlight of GROHE Blue Home is the GROHE ONDUS app that makes water consumption become trackable and, in combination with a personal fitness app, can help users drink enough water and thus contribute to a more balanced lifestyle. The app provides limitless water enjoyment by informing users well in advance when filter or CO2 bottle replacements are imminent. Reordering the items is done with just a few clicks via the app in the GROHE Blue online store. Another new convenient feature is the new app-controlled tap function, which allows you to precisely set the exact amount and type of water that you want out of the faucet – perfectly matched to the size of the glass.
GROHE Blue Saves Money as well as CO2
Regarding a sustainable lifestyle, GROHE Blue scores four times: Those who use the water system drink up to 35 per cent more than users of bottled water. At the same time, GROHE Blue Home even saves money: Compared to the consumption of leading bottled water, costs are reduced by up to 60 per cent. Using the private household's water only costs about 15 cents per day. And the environment also benefits, as CO2 consumption is reduced by about 61 per cent compared to bottled water, and there is less plastic and packaging waste.
Consumer-oriented Selection Process
It does not come as a surprise that GROHE Blue Home scores equally with the seven evaluation criteria: user-friendliness / functionality, product benefit, innovation, design, material quality, ergonomics and ecology / sustainability. The award's selection process is based on two pillars: First, a 15-member jury of experts from the fields of design, electronics, gastronomy, architecture and energy makes a pre-selection from the submissions. Then, it's the consumers' turn: The independent market research institute K&A BrandResearch conducts a representative survey of the preselected products among German consumers. With this award, the LifeCare initiative provides consumers with simple, objective and transparent orientation that has established itself as an important and much respected tool during purchasing decisions worldwide. The award is under the patronage of MEP Eva Maydell, a member of the Internal Market and Consumer Protection Committee within the European parliament. The award ceremony took place on 9 February at Messe Frankfurt, Germany, as part of Ambiente, the industry's largest international consumer goods and world trade fair.
For more information, please visit:
https://www.grohe.de/GROHEBlue
https://kuecheninnovationspreis.de/en/lifecare-initiative/
Matching images can be found here.