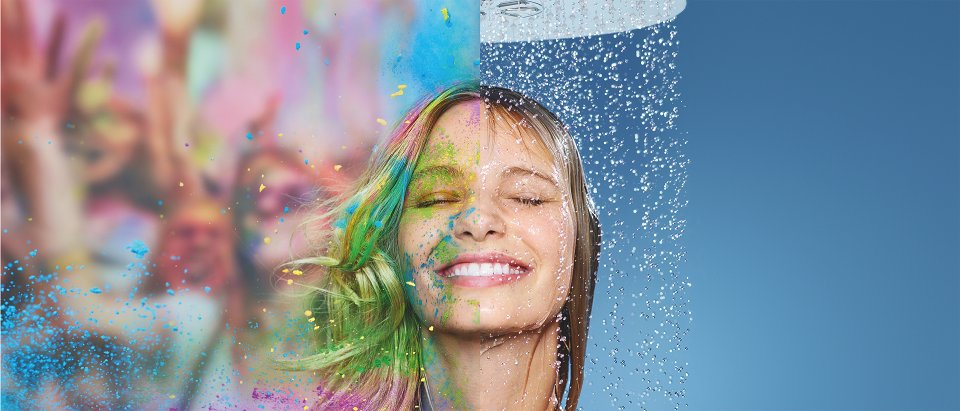 GROHE Shower Survey: Over 60 percent of Germans seek for wellbeing and relaxation in their bathroom
Produktmeldungen
Recent international market research by GROHE and explorare investigates showering behavior in seven countries in Europe and Middle East
Different countries, different customs: While Danish have a more practical approach to showering, Russians, Germans and Egyptians are real wellbeing lovers
Diverse showering habits ask for individual shower solutions
Düsseldorf, August 2020 – Consumer needs are constantly changing – and so also how they live and what they expect from their living spaces. As the world has become more hectic the bathroom has turned into one of the most important personal spaces in our homes. The bathroom plays the role of an oasis of individual serenity and relaxation. [1]
To create meaningful products with a real benefit requires a deep understanding of consumers. That's why GROHE, a leading global brand for complete bathroom solutions and kitchen fittings, recently conducted a representative study in June 2020 on showering behavior across several countries with the German research institute explorare. [2] A total of 3,500 respondents from Germany, UK, France, the Netherlands, Denmark, Russia, and Egypt answered questions regarding their individual showering habits and bathroom preferences.

The survey uncovers fascinating details on the shower routines of the Germans. More than 60% of the German population sees the bathroom as a place that stands for wellbeing and relaxation. For the main part of respondents (63%) the own shower should match their personal taste in terms of interior design. This shows that bathroom products have become furnishing objects and their selection is a question of style.

While the majority of respondents (94-97% depending on season) agrees that showers are need to be taken daily or several times a week, opinions differ about the right time of the day to shower: Up to 47% are more likely to shower in the morning whereas 35% prefer showering in the evening. Showering forms an important part of daily routines: No matter whether after a workout session, for a little energy kick in the morning to start the day powerfully [3], or to enjoy a relaxing time out after a long and stressful day [4] – showering has many facets and functions. 46% of the Germans save time by using their daily shower for additional body care routines, like brushing teeth or shaving. For one third of the respondents (37%), the daily shower becomes their personal stage moment and they use it for a private concert. Even the shower itself appears to be highly versatile in use: In addition to daily personal care routine, 41% state to regularly have sex in the shower, 44% use the shower to wash household items like flower pots and 15% sometimes even clean their car parts in it.

Different countries, different customs
The comparison between countries unearths some clear differences: Whereas respondents from most countries agree that the bathroom is a retreat and space of relaxation, the Danish have a more practical approach to showering – only 23% see the bathroom as the space for "me-time". Russians and Egyptians are real wellbeing- and shower-lovers. According to the survey results, respondents from both countries indulge in long, relaxing showers [5] and further treatments like body scrubs [6]. But not only relaxing is important: for a maximum energy boost 42% of the Russians rinse off with cold water at the end of the shower and revitalize their senses. In both Russia and Egypt, bathroom equipment offers a multisensorial experience (lights, music, side jets) so that creativity can flow perfectly while recovering during a long shower [7]. The French are clear leaders when it comes to shower frequency and water saving: During the summer, 86% shower daily or several times a day, 69% do so during winter. But although they love showering, 57% of the French turn off the water while foaming [8]. Whereas most countries show a balanced split between those who shower in the morning and those who shower in the evening, 80% of Russians shower in the evening.

A perfect shower moment – all you need!
Different showering habits ask for individual shower solutions: GROHE continuously meets the varying consumer needs and supports them in creating their personal home spa. To celebrate the purely individual shower moments GROHE presents a selection of all-round packages – suitable for different needs and every budget: GROHE Thermostats in concealed or exposed form, like Grohtherm 1000, GROHE Shower Systems like the GROHE Euphoria Shower System 260 or GROHE SmartControl Shower Systems. For further product details you can find a product fact sheet via this link.

+++ Further product details and high-resolution images can be downloaded here +++


[1] GfK Study "Baden und Duschen in Deutschland 2004" (50% of respondents agreed) compared to explorare/GROHE Showering Survey 2020 (62% of German respondents agreed)
[2] explorare & GROHE, Showering Survey, June 2020; Germany, UK, France, the Netherlands, Denmark, Russia, Egypt; total of 3,500 respondents
[3] 36% of the Germans gather energy for their day while showering.
[4] 62% of the Germans use their bathroom as relax zone, for well-being and recovery.
[5] 56% of the Russians and 58% of the Egyptians enjoy long, enjoyable showers.
[6] 44% of the Egyptians and 30% of Russians often use peelings or massage brushes while showering. 59% of the Egyptians and 45% of Russians does further body care while showering such as shaving or brushing teeth
[7] 34% of the Russian showers are equipped with special lightnings. 13% of the Egyptians showers enable to listen to music and 16% are equipped with side jets.
[8] 44% of the Germans turn off water as well.