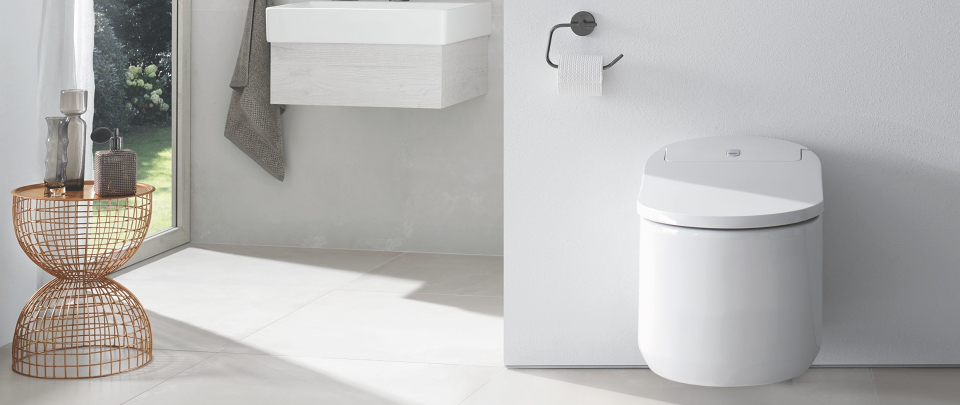 GROHE Sensia Arena: The shower toilet as a smart assistant for your home
Produktmeldungen
A clean and comfortable home thanks to innovative technology
Smart functions facilitate daily use and cleaning of the shower-toilet
Additional, sustainable added value through reduction of toilet paper
Düsseldorf, 06th April 2020 – Washing, cooking or cleaning – intelligent technology is increasingly used in private households to save time and energy and to guarantee a clean and comfortable home. As a global brand for innovative sanitary ware, GROHE aims to make people's lives easier and more comfortable. Thanks to innovative top technology, the Sensia Arena shower toilet becomes a smart and useful highlight in the modern bathroom.
GROHE Sensia Arena: Top 5 features for more comfort in everyday life
#1 Cleaning Assistant: With GROHE Sensia Arena, aggressive cleaning products and unsightly toilet brushes can more often be left hidden in the corner. A special surface coating, the rimless toilet design and the effective flushing power of the shower toilet make it difficult for dirt particles to stick.
#2 Odor Neutralizer: Pleasant smells in the bathroom promote well-being. To guarantee fresh air, GROHE Sensia Arena is equipped with an automatic odor extraction system: a protective layer of air prevents odors from rising and, at the same time, extracts them. The extracted air is then cleaned with an activated carbon filter and released back into the ambient air. Unpleasant odors are thus a matter of the past. With the help of silver ions, the HyperClean glaze kills germs and prevents 99.9% of bacteria growth.
#3 The Gentleman: The toilet lid is open again? The previous user forgot to flush? With GROHE Sensia Arena, such frequently discussed topics have finally come to an end! Thanks to a motion sensor, the GROHE Sensia Arena lid opens and closes automatically without the need to touch it. The particularly effective and efficient flush system eliminates unsightly residues and is also available as an automatic flush on request.
#4 Navigator at Night: The practical night light function of GROHE Sensia Arena makes it easier to find your way around in the dark when going to the toilet at night. There is no need to switch on the glaring room light, preventing disturbance to your sleep mode. Additionally, the exceptionally quiet Triple Vortex flush also ensures a less disturbed night.
#5 The Minimalist: Less is often more – this also applies to toilet paper. Shower toilets are also becoming increasingly popular because they lead to reduced paper consumption. In addition to its practical function as an everyday helper, GROHE Sensia Arena also offers added value in terms of sustainability: cleaning with natural water significantly reduces the use of toilet paper – up to 15 kilograms per year can be saved in a four-person household.
GROHE Sensia Arena – a new dimension in individually adjustable body care
The GROHE Sensia Arena shower toilet creates a completely new feeling of body care that can be adjusted to suit individual needs. In terms of design, the GROHE Sensia Arena is also a real highlight. With its sensitive, intuitive design, it fits into any bathroom. In addition to Sensia Arena, the smart toilet with shower function, GROHE also offers a Manual Bidet Seat as an entry-level model into the world of shower toilets. The seat can be retrofitted quickly and easily, making it ideal for rental properties.
Detailed information on GROHE Sensia Arena is available in the informative product brochure which can be downloaded here.

high-res images can be downloaded here.