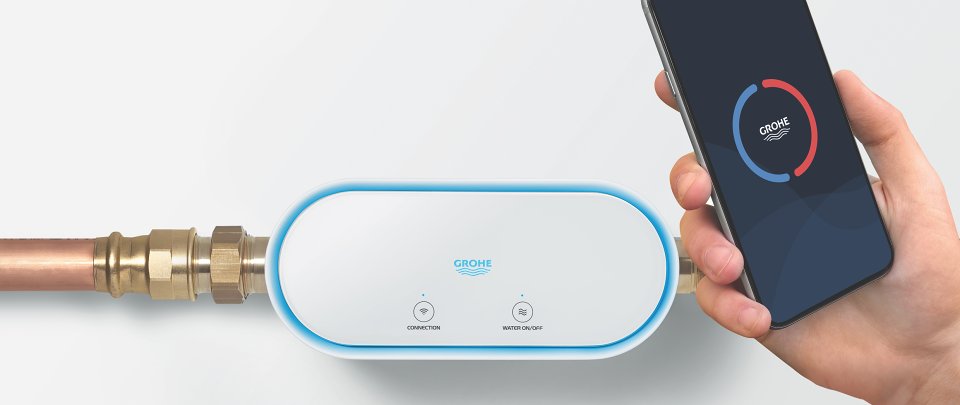 A smart game changer: GROHE Sense system reduces water damage costs of finnish insurer Localtapiola by 70 percent
Produktmeldungen
● Transformation in the insurance sector: Proactive damage prevention brings unprecedented benefits to Finnish insurer LocalTapiola.
● GROHE Sense water security system is delivering a reduction of over 70% in water damage payouts in a large-scale roll-out in Finland.
● GROHE offers its end-to-end self-financed water security solution to insurers combining its high-quality products with tailored services.

Düsseldorf, 20. January 2021 – Water damage is the biggest risk to homes and the biggest cost driver across Europe for property insurers. In Finland alone, almost 40,000 water damage cases are reported to insurance companies each year, resulting in payouts to private house owners of more than 160 million euros. Still, most insurers are not actively taking measures to prevent this problem.

The Finnish insurer LocalTapiola decided not to accept this inconvenient truth and started cooperating with GROHE in 2019. "Within the last two years we have equipped thousands of households with a GROHE Sense system. The results are incredible: We have been able to reduce our costs for water damages by over 70% by now", says Pasi Korhonen, Business Development Manager at LocalTapiola Finland. "This program is our clear differentiator in the property insurance market." Customers who are selected by the insurer for this revolutionary offer and agree to it, have the smart water controller GROHE Sense Guard and three GROHE Sense water sensors installed in their house free of charge. This program reflects the transformation of the insurance industry towards a lifelong security partner that offers IoT connected preventive solutions, eliminating claims pro-actively instead of paying them afterwards.

The partnership started as a pilot project back in 2019 and has developed very strongly ever since. "With LocalTapiola we work hand in hand for residential water security, applying an innovative concept: proactive water security", explains Claus Kurt Nielsen, Leader, Business Development SenseGuard at GROHE. "But we are not just providing the devices themselves, but an all-inclusive end-to-end service." In the course of the partnership GROHE takes over a chain of services, starting with communication and lead generation: On behalf of LocalTapiola, GROHE executes a marketing campaign to reach potential customers. Once a customer has registered, the GROHE installation team takes over and ensures a smooth delivery and installation of the Sense system in the customer's house. Afterwards, the GROHE customer support takes on all product-related questions and issues and also pro-actively ensures that the installed devices remain active throughout the entire lifetime. Thus, the whole operation and customer handling is covered by one strategic partner: GROHE.

Only in the event of a claim is LocalTapiola activated. "With our solution we are truly revolutionizing the insurance market. The results of the cooperation speak for themselves and prove that our solution works", says Claus Nielsen. By letting GROHE install the GROHE Sense and Sense Guard and run the service, LocalTapiola has been able to actively reduce the number of claims and the claim cost for water damage. With a constantly growing number of houses protected, the program has the potential to notably improve the overall combined ratio of the insurer.

Besides the cost saving for LocalTapiola, the solution is a real game changer when it comes to data. The systems deployed allow GROHE to monitor and analyse the actual data in order to understand patterns leading to water damage cases. With this profound knowledge the GROHE Sense system is constantly improved in order to tackle issues even before they occur. "We are keen on pushing this program further, and, at the same time, we need to be open to such programs in other insurance lines", states Pasi Korhonen.

Smart Solutions for the Water Management of Tomorrow
GROHE's Sense system comprises two products: The smart water controller GROHE Sense Guard is directly installed in the water pipe and tracks any kind of activity in regard to water consumption through a combination of sensors, and, in case of an irregularity, either sends warnings or shuts off the water supply. That means 24/7 water security without any human interaction required. The water sensor GROHE Sense detects leaking water, tracks temperature and humidity and alerts you automatically when the numbers exceed the user-defined thresholds. The GROHE Sense app lets users monitor and control the system from anywhere and at any time, thereby providing a maximum level of security: In case of an emergency, a notification is sent to the smartphone. Water consumption is now trackable - a ground-breaking innovation. Customers who enter their water and energy prices receive a statement of their estimated costs. This not only ensures control of the valuable resource of water but also offers the opportunity to adapt user patterns and to use water more consciously.