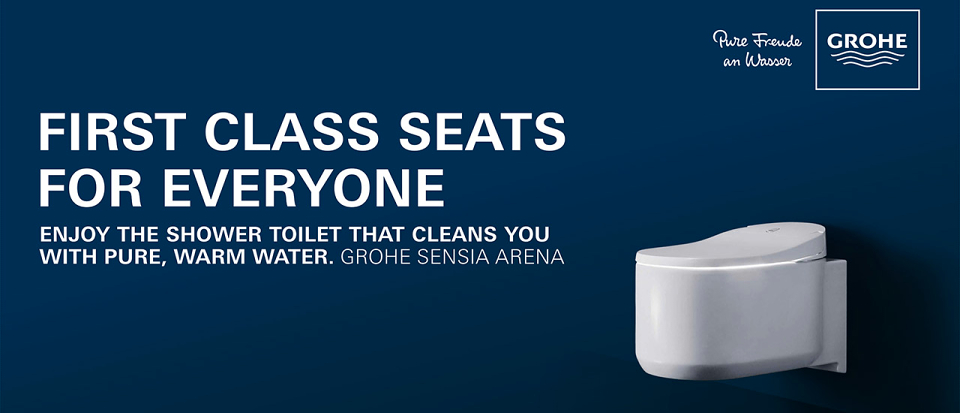 GROHE launches shower toilet campaign at international airports
Company Information
Download area
"First class seats for everyone" is the slogan for the GROHE Sensia Arena intelligent shower toilet
Largest out-of-home advertising campaign in GROHE's history: 19 international airports, 15 countries, 20 million visitors
The campaign is part of a broad communications offensive covering public relations and social media, as well as drives in sales and marketing, training and employee communications
At the beginning of March, GROHE, the world's leading provider of sanitary fittings, launched an advertising campaign for the GROHE Sensia Arena intelligent shower toilet at 19 international airports in 15 countries. With the "FIRST CLASS SEATS FOR EVERYONE" creative campaign, GROHE is targeting international travellers. The GROHE Sensia Arena is a premium, intelligent shower toilet that features an elegant design and a breakthrough technology, while remaining an affordable product for everyone. No other GROHE product has won as many design prizes as the GROHE Sensia Arena.
Reaching 20 million airport visitors
The campaign can be seen amongst others at the major hubs of London Heathrow (Great Britain), Paris Charles de Gaulle (France), Frankfurt Airport (Germany) and Amsterdam Schiphol (the Netherlands). The billposting represents the largest out-of-home advertising campaign in GROHE's history and should reach more than 20 million airport visitors. The aim of GROHE is to draw maximum attention to the shower toilet and position itself as a leading provider and partner to retailers, showrooms and project developers. In addition, a GROHE XXL truck will be calling at selected airports to provide more detailed information. The campaign will also be supported by public relations and social media activities, employee mobilisation initiatives and dedicated sales drives.
Support for tradespeople and retailers
Furthermore, GROHE will be offering additional benefits to partners selling the Sensia Arena, whereby tradespeople that participate in the SMART loyalty programme of GROHE will receive 1,000 SMARTs per sold and scanned shower toilet. GROHE is also supporting retailers and tradespeople with training and information materials. These include counter displays, posters and gallery cards for bathroom showrooms. The GROHE Sensia Arena will also be one of the highlights on display in the four GROHE XXL trucks and S trucks during their Europe-wide tour. Consumers and tradespeople can try out the shower toilet for themselves during the stops and discuss the product with GROHE staff.
More information at
www.grohe.com/shower-toilet
www.pro.grohe.com/smart-loyalty