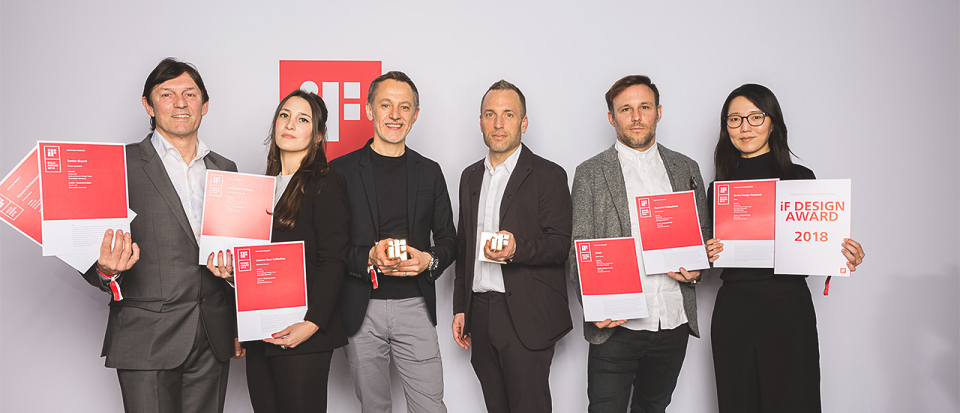 GOLD for GROHE: Outstanding Series at the iF Design Award
Company Information
Download area
Two Gold Awards for GROHE Sense Guard "a brilliant solution against water damage" and GROHE Essence Professional a kitchen faucet that impressed the jury with its "clever mix of different materials and colors"
Another five iF Design Awards make this year's participation of GROHE at the prestigious competition a great success
GROHE's design team continues their winning streak from the record year of 2017
GROHE, the world's leading provider of sanitary fittings, has received a record number of awards at this years iF Design Awards 2018 – one of the world's most celebrated and valued design competition. Two products of GROHE even received the Gold Award, one of the globally most recognised trademark for excellence in design. Another five iF Design Awards underlines the design excellence at GROHE. The official awards ceremony, with around 2,000 guests, took place on Friday, 9 March at the BMW Welt in Munich.
Gold for GROHE's intelligent water control unit
One of the GROHE products to garner the prestigious iF Gold Award was the GROHE Sense Guard. The jurors were impressed, above all, with the "elegant design and user-friendly interface" of this intelligent water control unit for the Smart Home. In the jurors' estimation, "exceptional functionality paired with a minimalist exterior" produced a "brilliant solution for avoiding all kinds of water damage".
Kitchen faucet GROHE Essence Professional also receives a Gold Award
The second iF Design Gold Award was won with GROHE Essence Professional. This delicately designed kitchen faucet for professional use is available with a silicon hose in around a dozen colours. The iF Design Award jurors emphasised the "intelligent mix of different materials and colours of the high-quality product" and announced: "This is a high-end professional product that is joyful to use, with material quality you can feel."
Another five awards round out the successful participation at the iF Design Award
In addition to the outstanding recognition via the Gold Awards GROHE received no less than five iF Design awards at the annual celebration of design excellence: for the Concetto professional kitchen tap, the shower control Smart Control Round, the water sensor GROHE Sense, the bathroom faucet Lineare New Collection and the brand film GROHE Design Showreel.
Outstanding recognition of the GROHE design
"My team and I are very happy about this outstanding recognition of our work", says Michael Seum, Vice President of Design for GROHE. "Looking back on a very successful year for the GROHE design in 2017, this highly appreciated recognition proves to us yet again that GROHE pursues its design philosophy with the greatest success. What's more, GROHE products, regardless of style, are always easy to use, intuitive and provide a high level of performance."
GROHE continues its winning streak of design prizes
In 2017, the world's leading provider of sanitary fittings won 62 design awards – more prizes than it had ever won before. These awards included five Red Dot Design Awards (Europe), three Good Design Awards (Japan) and the International Design Excellence Award (USA). All in all, GROHE participated in 17 international design competitions in 2017. And in 2018, the GROHE design team is continuing its winning streak. GROHE has already won more than a dozen design prizes in the current year.
More than 6,000 entries for the iF Design award
For 65 years, the iF Design Award has been a globally recognized trademark for excellence in design. With 6,402 entries from 54 countries, the iF Design Award has seen a record number of submissions in this anniversary year. Never before have so many products and designs been entered into the competition. The members of the jury faced a difficult task.
More information at
www.ifworlddesignguide.com