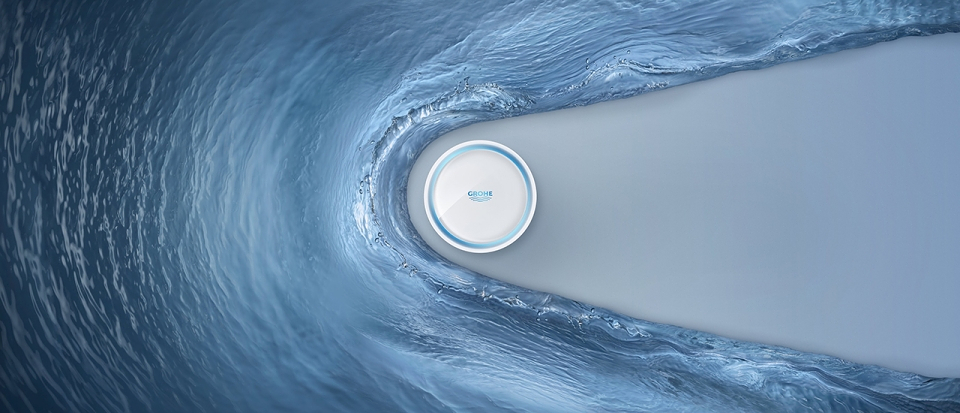 Smart Partnership: GROHE and QIVICON Quash Potential Water Damages in Smart Homes
Unternehmensmeldungen
Downloads
QIVICON smart home platform users can protect themselves against damage by using GROHE's intelligent water security system.
The GROHE Sense system monitors humidity, detects water leaks, immediately sends out alerts and automatically shuts off the water supply.
The app makes it easy and convenient to prevent water damage.
Düsseldorf, Germany, 11 December 2018. The costs for cases of water damage have risen to record levels over the past 17 years (2000 – 2017). In Germany, statistical investigations show that every 30 seconds there is a burst pipe, a loose gasket or a leaky tap. [1] For this reason, one particular thing should not be missing from a smart home: an intelligent water security system. This is the basic idea of the collaboration between GROHE, a leading global brand for holistic bathroom solutions and kitchen faucets, and QIVICON, Telekom's multi-vendor smart home platform.
GROHE's Smart Home Offer Is Settled
Those who want to take advantage of smart home services often have to deal with the hassle of putting them together laboriously. It is very common for each new component to add its own control unit to the system. QIVICON, on the other hand, is accessible regardless of manufacturer, brand and device: The service can be conveniently managed, controlled and automated via a partner app such as Magenta SmartHome. "In using GROHE's technology, our extensive range, from theft protection to automatic lighting control and the connectivity of household appliances, is now being expanded with an expert in the field of water security," says Thomas Rockmann Vice President Consumer IoT at Telekom. "Smart Home helps make everyday life not only more convenient, but also safer," says Michael Rauterkus, CEO of GROHE AG. "With the intelligent GROHE Sense water security system, the first IoT solution in the plumbing industry, we help users protect their homes from water damage."
GROHE Sense Protects Your Home
As of now, GROHE Sense can be connected to QIVICON. When the intelligent device's sensors come into contact with water or if the room temperature falls below 3°C, users will receive a notification in their Magenta SmartHome app.
Preventable Cases of Water Damage
Domestic water damage is a highly underestimated risk. The 2017 GROHE Water Security Survey clearly shows that far more households in Europe are affected by water damage than the respondents themselves suspected. Approximately half of European households have already suffered a water damage incident at least once. [3] And as a report by the insurance company ACE-Group reveals, 93 percent of the claims could have been prevented. [4]
[1] https://www.gdv.de/de/themen/positionen-magazin/unter-druck-39356
[2] The ConsumerView, January 2017, Quantitative Assessment Europe.
[3] ACE-Group: http://www.businesswire.com/news/ACE-Study.
For more information, please visit
www.grohesense.grohe.com
www.qivicon.com/en/