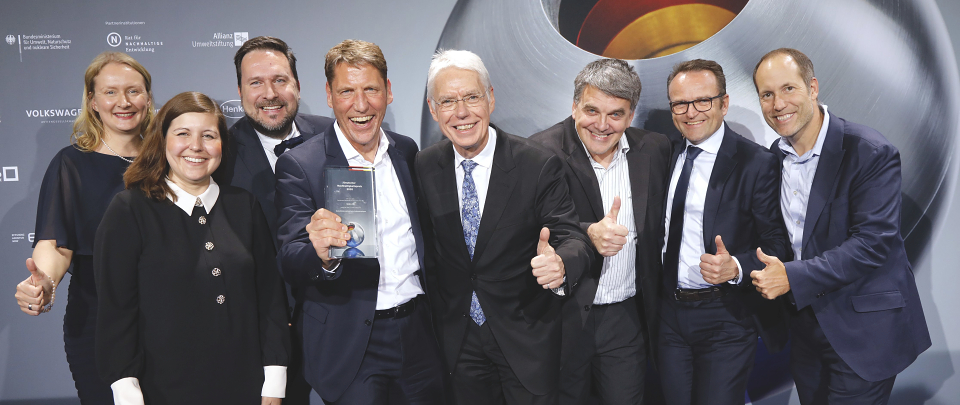 GROHE is one of Germany's Top Three Most Sustainable Big Companies
Unternehmensmeldungen
● Top 3 placement for GROHE at the German Sustainability Award
● Jury of Europe's largest sustainability award honours GROHE's 360-degree sustainability approach
● CO2-neutral production starting 2020 sets new standards in the sanitary industry
Düsseldorf, 25 November 2019.
At the German Sustainability Award ceremony on 22 November 2019 in Düsseldorf, GROHE secured a placement among the top 3 in the category "Germany's Most Sustainable Big Companies 2020" thanks to its 360-degree sustainability approach and, above all, its progress in saving resources. "We are proud that our holistic sustainability approach, which we integrate into all of GROHE's areas of activity, has enabled us to achieve a top ranking at the German Sustainability Award," says Thomas Fuhr, CEO of Grohe AG. "Our daily experience shows that economic success and sustainable business practice do not have to be mutually exclusive. This award confirms our consistent pursuit of our sustainability goals and at the same time motivates us to further increase our commitment."
For the twelfth time the German Sustainability Award Foundation awarded companies that combine economic success with social responsibility and environmental protection in an exemplary manner last Friday. The jury particularly praised GROHE's commitment to saving resources. A successful example is the recycling rate of above 96 percent. Moreover, GROHE is also the first leading sanitary brand to offer the possibility of manufacturing material-saving fittings with the aid of innovative solutions, such as the manufacture of products with a 3D metal printer, which allows for weight savings of up to 55 percent.
GROHE's greatest lever for sustainability, however, is in the product's use: a person's daily water consumption can thus be reduced by up to 50 percent with the help of products equipped with GROHE EcoJoy flow-limiting technology. The result: a family of four can save up to 31,400 litres of water per year this way.
GROHE's Production Plants to become CO2-Neutral Worldwide by 2020
GROHE does not want to rest on its laurels and is setting new standards in the industry with yet another important step, which was positively acknowledged by the jury: as the first leading manufacturer in the sanitary industry, GROHE has set itself the goal of achieving CO2-neutral production at all production sites worldwide as part of the "GROHE goes ZERO" project. In July, all five global production sites and the logistics centres in Germany were therefore converted to green electricity. With the start of the new fiscal year in April 2020, the sanitary manufacturer will offset unavoidable CO2 emissions by means of two compensation projects.
"The award has shown us that we have already taken important steps to achieve our ambitious sustainability goals. At the same time, manufacturers such as GROHE are more than ever asked to assume responsibility, which is why we want to use measures such as "GROHE goes ZERO" to provide further impetus within the industry and thus actively promote greater sustainability," says Thomas Fuhr.
In recent years, GROHE has repeatedly achieved top placements at the German Sustainability Award. Furthermore, the sanitary brand was presented with the CSR Award of the German Federal Government in 2017 and GROHE CEO Thomas Fuhr was honoured with the B.A.U.M Environment and Sustainability Award by the B.A.U.M. corporate network in September 2019.
For more information, please visit www.grohe.com/sustainability